Together Anywhere develops new ways to travel, through innovative application of modern technologies. We provide unique experiences and connection through entertainment, education, nature and community.
As we stand by our mission, we would be complicit to not recognize what is going on across our state, our country, and our world right now. 
Despite the COVID-19 pandemic, we have been preparing to publicly and commercially launch our Oregon travel app. However, we must pause yet again. This time, not for fear of death from COVID-19 but for fear of the death of our own morality. This is not a time to distract and tell people about vacation, entertainment, and road trips. It is a time to LEARN. TO LISTEN. AND TO STAND UP.
In our next post, we will share a more specific timeline of Oregon and its racist past. But first, a personal perspective. To prepare, here are a few facts about the reality of Oregon's and the United States' history: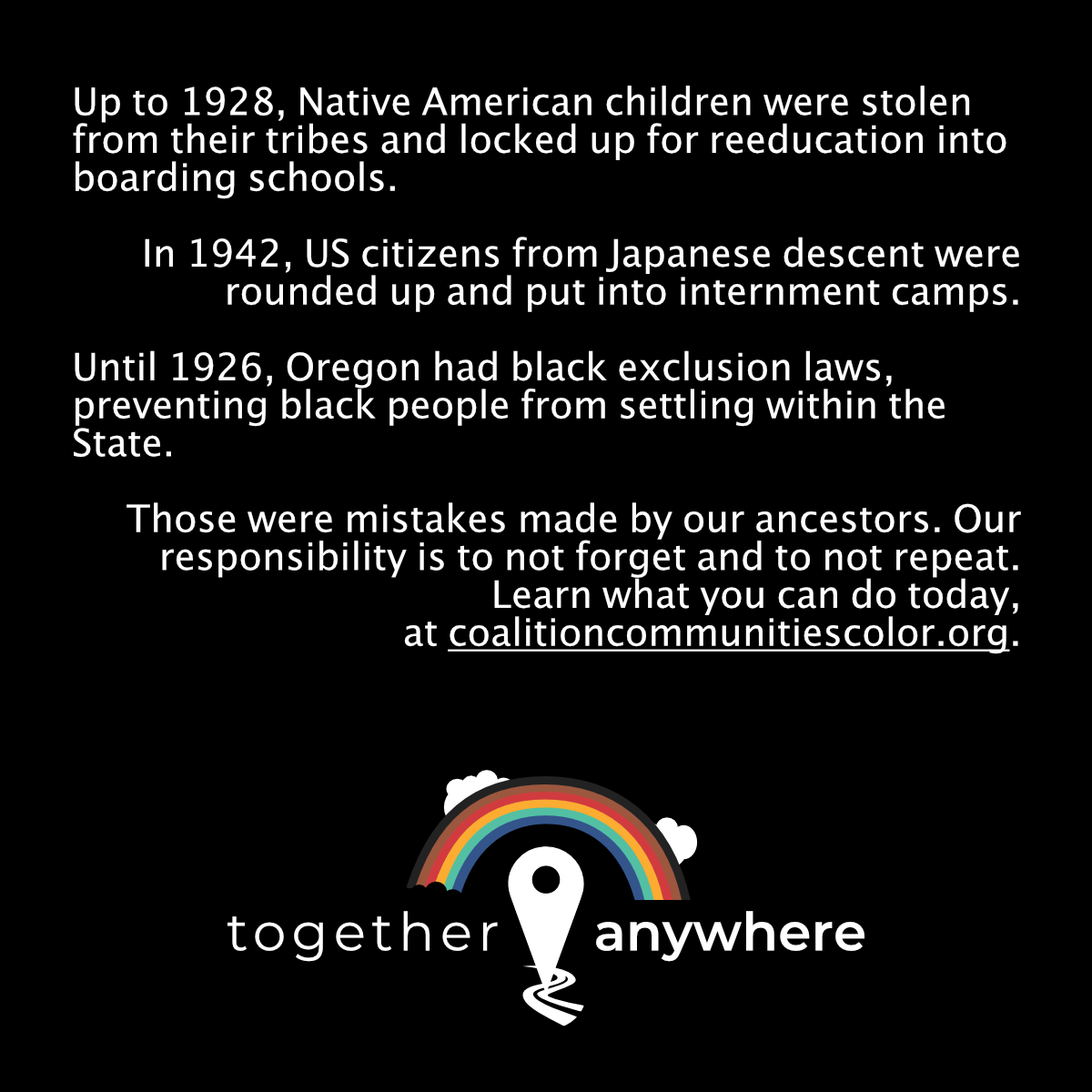 While we hope to someday hire a mix of diverse employees, for now, our small, three person startup company is made up of a typical Oregon ethnic make-up: white and European. Our partner and narrator Andrew is a white male, born and raised in Oregon. Our partner Arnaud is -literally- a white European from Belgium. He moved here in 2017.
And myself, Christy, I am a white woman from Missouri who transplanted here to Oregon in 2008. As one of the primary content writers for Together Anywhere, I continually strive to evaluate my bias, my privilege, and increase my understanding. This is my personal story of unpacking privilege and re-educating myself…. and the learning that continues to this day.
My heart is breaking so much right now. I am so scared for the future of our country. I am frightened by the pain and violence, and scared for people's lives, especially with a pandemic still going on. However, I am mostly scared that again, nothing will change. But this time feels different. In the last week, it has become clear that people are ready for a battle. This is unsettling. It is uncomfortable. And this is needed. And it is coming.
I'm taken back to elementary school. I have to admit that I didn't really know much about black people, racism, or black history other than the common textbook lessons: Abraham Lincoln ended slavery and Martin Luther King, Jr. ended segregation. Looking back, these were the two general stories we were told to have us think that white people had graciously done what was right…. but we weren't really told how they had fucked it all up in the first place.
I digress, anyway, back to the 1980s… we watched the Cosby's on TV and my whole family laughed and loved the Huxtables. I don't remember much being mentioned about the color of their skin. And I realize now that they were likely the vision of the black family that white people wanted to see and imagine as equal to them. We saw them on TV, that must be what is normal, right?
Another memory takes me to the one black student in my grade. At least I think he was the only one. And I still remember his name. For privacy sake, I'll not state it here but my mind is turned again to that time… what must it have been like for him? I don't know if any of us were asking that question at that time.
My small hometown in southeastern Missouri had an "average" black/white diversity but like most cities, it was segregated in ways that history dictated. Most of the black kids went to that one elementary school across town and the kid who went to our school, well, I want his story now. I want to remember if I invited him to my fifth grade party that year. And if not, why?
I remember my grandparents using the word "colored" as I grew up and I knew it just didn't feel right. Then there is my father, who most would call an open-minded loving man, subtly insinuating that while he could understand homosexuality, mixed race couples had too many hurdles to face in this world. The message I heard: You can be a lesbian but don't you dare date someone of a different race.
Fast forward to my mid-twenties in 2007 and I'm in the big city of St. Louis; I started getting to know a black man more intimately. I'll call him B. He was only visiting St. Louis due to a family illness and lived primarily in California. I had lost a mother, he was losing his mother. Through his multiple visits to the city, through writing and texting, we talked of pain and loss. We had fun, we distracted each other in our shared grief. I was drawn to his adventurous lifestyle and his open worldview, I mean, he was a Californian… he had escaped.
B also traveled to countries across the world for work after breaking free from the Midwest years before. At that point in my life, I hadn't even been to Mexico or even New York City… I longed to know what else was out there, beyond the borders that had kept me scared of the rest of the world. I admired B's ability to get out of Missouri, to challenge the known and unknown, and his bravery to go at life alone. And surprisingly (or not surprisingly?) we talked very little about race.
In the end, it was B that gave me the courage to finally make a plan to leave St. Louis and the Midwest. But it's sad when I think about it: B was one of the most influential people in my life at that time and I couldn't even tell my father about our relationship.
When I told B that I had finally mustered up the courage to move 2,000 miles across the country, he was supportive and encouraging. However, B paused and laughed at the thought of coming to visit me, insinuating what he already knew about Oregon. I didn't think much of it, planning for us to reconnect since he would be nearby in California… we would be neighbors after all!
Without B needing to tell me, one of the first things I noticed when I arrived to Oregon was its' WHITENESS. I had been living in the 'big city' for the previous ten years, working in schools with a focus on kids with special needs. It seemed diverse in race, ethnicity, and socio-economic class… at least that is what my privileged lens saw. One look at the divide in staff makeup would have shown me otherwise. My new job at Oregon State Hospital in Salem, Oregon, also gave me the illusion of diversity as it has a very heterogeneous workforce and patient population. However, out in public, in downtown Salem, at the coast, in the mountains, and even in downtown Portland, the whiteness was pervasive.
And shamefully, I became used to it. And even more shamefully, I eventually ignored it. Suddenly, when I would travel away from Oregon, I started to notice race in ways I never had before. I noticed the black people working certain types of jobs separate from white people. With no direct flights from Portland to St. Louis at that time, I transferred between many US cities. I suddenly noticed my own thoughts of racism and fear when I was in more predominately black areas, like Minneapolis or Chicago, over cities like Salt Lake City or Denver.
After us meeting once in California, B did come to visit me in Oregon in 2010. We spent the weekend in Portland and I brought him to my new home in Salem. It was a whirlwind trip and of course he joked about the lack of black people in Oregon. I had never been so aware of my own whiteness. I recall the embarrassment I felt of living in a place so washed out to diversity. And what did that mean about me?
From a small midwestern town, to the big city of St. Louis, to white Oregon, my views of racism and ethnicities and my own privilege were being thrown in my face. My graduate schooling in counseling sent me head first into multicultural studies and increased awareness of white privilege. Finally, I was traveling to different countries, exploring cultures, and learning about what it means to be walking around the world in the skin of a white person. From Mexico to Cuba to Hawaii to Europe and back to Oregon, I was finally learning how everything I had been taught was wrong.
"The paradox of education is precisely this – that as one begins to become conscious one begins to examine the society in which he is being educated." – James Baldwin
In 2016, after graduate school ended, I left the state hospital to begin my next level of education at Chemawa Indian School. This, my friends, is where the idea for Together Anywhere gets started. If you don't know the story of the boarding schools in the United States, be prepared to have your world forever altered. At least, mine was.
As I showed up to this place every day, working with Native kids from all around the United States, I wondered, 'How does this school exist in Oregon, for nearly 150 years, without people talking about it?' 'Why is it so separate from our understanding?' 'How do we get people to learn these stories?' 'How do the white people of Oregon, and everywhere, recognize that there was a lot that happened to set up our lives here?' And, most importantly, 'How do we have a voice to change things?'
My unlearning has perhaps come late. I mean, I'm 40 years old now, and my education of my own privilege didn't even begin until my late twenties, until I left Missouri and entered white Oregon. But it doesn't mean it is too late. We can unpack our privilege, we can continue learning, we can listen, we can stand up for what is right.
I look at "young" people today and I realize I am no longer one of them. I am part of the older generation, their parents generation. We are the ones who have grown up with racist parents and grandparents and have our own memories about our shameful views on race. We are the ones who are being challenged by today's young people to activate, to dismantle the aggressive use of force, to move us into a more balanced and aware society.
As someone who spent nearly 40 years in schools, my background is one of an educator. As a person with a mental health degree, my background is in trauma and healing. Here is what I know:
WE CANNOT HEAR UNLESS WE LISTEN.
WE CANNOT HEAL UNTIL WE RECOGNIZE OUR PAINFUL STORIES.
WE CANNOT CHANGE THINGS WITHOUT CONFRONTING PRIVILEGE.
I don't know exactly what to do, but I will do all I can and listen to the black community for guidance about what we need to do.
In our next post, Together Anywhere will explore the reasons why Oregon has one of the most saddening pasts of race in our entire union. We will learn about the reason that Oregon was 97% white until just 50 years ago and why the state constitution contained racist language until 2000! As a company, Together Anywhere will continue to promote truth, education, and equity. Because, we have to tell the stories, even when they don't make us feel good.
Some places to start educating yourself:
Japanese History in the Hood River Valley – Hear in the Gorge Podcast
The Racist History of Portland, the Whitest City in America – The Atlantic
How Oregon's Racist History Can Sharpen Our Sense of Justice Right Now – PDX Monthly