*Disclaimer: not all locations may be open due to COVID-19. Please follow all posted guidelines for individual locations.* Above photo by Whitney Misch @bigmisch
Hello fellow travelers. We are Together Anywhere, a partnership of lifelong and transplanted Oregonians and your tour guides for a new, Oregon-based, GPS audio driving tours. This tour section of the Clear Lake Cutoff is just one small part of an ever growing network of tours on our app.
If you want to take an ACTUAL road trip, just make sure to download our app for Apple iOS or Google Play before you go. The following are just ten of the HUNDREDS of narration points along Oregon roads.
Ready to take a road trip? Well let's get going!
Fact #1: Traveling between Eugene and Bend used to be a lot more difficult.
What stands in the way between Eugene and Bend? The Cascade Range. Before this 20 mile section of highway was completed in 1962, travelers from Eugene had to attempt to cross the mountains over dirt roads or the difficult lava (and often snow) terrain of the McKenzie Pass. Known as the "Clear Lake Cutoff", this 20 miles now serves as a faster connection to Central Oregon for those driving down the McKenzie River Highway. With this addition, it is now possible to travel from Eugene to Bend in just over 2 hours.
Fact #2: The original pass is now closed half of the year.
In 1910, as cars were making their debut as a replacement for wagons, the first automobile successfully tackled the McKenzie Pass. But because of the difficulty maintaining the McKenzie Pass road surface through the harsh winters, the formerly known McKenzie and Eastern Road was not the most pleasant of trips to say the least. By 1920, the road was able to be relocated and widened with the help of federal money. It finally became known as Oregon State Highway 126 in 1925 making the area accessible to tourism.
It continued to be a struggle to keep it open year round with the abundance of heavy snow, high elevation, and steep grades. In the early 1960s, when the Clear Lake cutoff road was built, it became the new Highway 126. The old highway was renamed McKenzie Highway 242 and it became a seasonal scenic byway, open from the middle of June to early November, dependant upon snowfall. It became a National Scenic Byway in 1998 and in 2011 was listed on the National Register of Historic Places because of the accomplishments with the difficult road construction of the early 1900s. Our driving tour is available here starting June 15th, 2020!
Fact #3: People now fly down the mostly straight road.
In extreme contrast to the McKenzie Pass section, the Clear Lake Cutoff has some pretty solid straightaways. From our experience, people FLY down these sections and we really recommend to not join in the game. At under 2000 vehicles a day, it is one of the lesser traveled roads in Oregon but the crash rate more than doubled between 2014 and 2017. Plus, there are some choices to make with turnoffs. North of Clear Lake, there is the option to head west on Highway 20 towards Sweet Home, Lebanon, and eventually, the Oregon Coast. Just after Highway 20 joins 126, travelers choose to either head west towards Salem on Highway 22 or east towards Bend. Luckily, our tours go both ways!
Fact #4: Belknap Hot Springs sits at one end.
Let me tell you a little about the well known Belknap Hot Springs Resort. R. Simeon Belknap discovered and initially developed the area in 1870, where it was promoted as a salt and mineral spa. While similar resorts existed in Lane County since the late 1800s, this is the only one that stood the test of time. Today, the resort includes a hotel, several cabins, and RV and tent spots. They also own the Camp Yale property just after the turnoff on to Highway 242. The hot springs water is treated with chlorine before being diverted into two concrete swimming pools, one limited to overnight guests, the other also available for day use. The resort and pools are open year round with pool temperatures in the low 90s for the summer months and at 102 degrees during the colder months.
The actual Belknap Hot Spring is situated along the north side of the McKenzie River. As you cross the wooden foot bridge, you are introduced to a network of walking paths leading you to several tent sites, a family cabin, and the Secret Garden where several weddings take place every summer. The McKenzie River Trail runs through their property as well. It can get a little…ok pretty busy during peak hours but weather you experience the property on foot or completely submerged in hot water, I think you will be happy with your choice to visit.
Fact #5: Fish Lake sits at the other end.
While Fish Lake is one of the top of Oregon destinations these days, the location here on your left is a historical mecca in Oregon terms. In the mid-1800s, settlers and Native people passed through this area on the Santiam Wagon Road where 100 or more wagons could be parked on their way to and from the Willamette Valley. Today, you can stop here to read the interpretive historical signs, view the historical buildings still used by the forest service, and even visit a pioneer gravesite. It was placed on the National Register of Historic Places in 2014 and is supported today by a not-for-profit group called the Friends of Fish Lake. They are always looking for members to assist in the preservation of Oregon history and can be found at fishlakehistoricsite.org.
Fact #6: The McKenzie River Trail runs almost the entire length of the highway.
Have you heard of the McKenzie River Trail? Some people would call this the most quintessential trail in Oregon, offering a varied landscape of lakes, rivers, mountains, and waterfalls. By starting just north of Clear Lake, you can experience a mostly downhill adventure for the 26 mile route as you work your way back towards Eugene tracing all kinds of features along your journey. As it starts above the 3,000 foot elevation point, the trail can be snowy up until early June at this upper trailhead.
Fact #7: The entire road sits in the Willamette National Forest.
At this point in the drive, we are going deeper into the nearly 1.7 million acre Willamette National Forest. There will not be another piece of commercial property or land until we notice Hoodoo Ski Resort near the Santiam Pass in about a half an hour. As we turn north and make our way to Highway 20, we will experience a dense canopy of trees, and likely snow if you are traveling in the winter as the elevation begins to increase as we make our way towards the Cascades mountain pass.
Fact #8: There is boating… but be wise.
Just north of Belknap, the McKenzie River Viewpoint offers a chance to pull over and walk a very short accessible path to a viewpoint of the river that includes an informational kiosk, stunning views of the crystal clear waters below, and a chance to sit and watch kayakers or whitewater rafters navigate their way down the increasingly rough river. While it may look easy, guides are trained and hold permits to make sure everybody goes down the river with the proper equipment and safety measures. McKenzie River Guides offers an updated list of all fishing and whitewater guides in the area.
Fact #9: There are more hot springs.
Just off the forest service road north of the viewpoint is Bigelow Hot Springs. Look for a parking area just over the bridge as you cross the McKenzie River. This clothing optional locale, also known as Deer Creek Hot Springs, contains a small sand and gravel pool. It only holds about 4 to 6 people, so consider yourself lucky if you have this place all to yourself! At just over 100 degrees, this pool is best enjoyed in summer or fall as it is too frigid for soaking during the rest of the year.
Fact #10: One of the biggest monoliths in the WORLD is accessible here.
Wolf Rock is the third largest monolith in the world! There is an access point down Forest Road 2654. It takes about 30 minutes to get there via forests roads, and we suggest to only do it with a map and information about road conditions. However, this one of a kind structure is worth the journey at certain times of the year. Made of hard volcanic rock from an ancient magma core, Wolf Rock is likely the last 1,000 foot remainder of a 40-million-year-old volcano over 10,000 feet. To understand how big that is, imagine the Eiffel Tower is one piece of solid rock. Or have you ever been to Haystack Rock in Cannon Beach? Wolf Rock is nearly four times the size!
Fact #11: There is a lot of camping.
Just as you cross the 2,000 foot elevation point, we leave Lane County for Linn County. One of the more than 70 developed campgrounds in the Willamette Forest can be found here. Olallie Campground and day use area provides for fishing, swimming, picnicking and hiking as well as a bathroom stop. Use recreation.gov to reserve one of their sites between April and October. The lower loop offers mesmerizing views of both the river and the creek while the upper loop is set further in the trees with many sites facing the creek. Be careful when booking however; much like Clear Lake, Haystack Rock, and Blue Pool, the name "olallie" appears in Oregon more than once. Just make sure you book the correct one! Along with Olallie, there is camping at Coldwater Cove next to Clear Lake, or off one of the many forest roads in the area.
Fact #12: One of Oregon's most Insta-famous spots is along this road.
Our next landmark is the first of my favorite stops of the tour! But, you can't just jump out of the car and see it. In fact, you might want to pack a lunch. It is fitting that Tamolitch is a Chinook word for 'bucket' as this destination is on the bucket list of many Oregonians and tourists alike. This heavily used trail takes you to a beautiful, blue-green glass-like pool that holds a section of the McKenzie River after it emerges from its three mile underground journey. While this has been called one of the world's best places to swim, this magical pool has dangers of hypothermia and rocks that are closer to the surface than they appear. As we pass the Trail Bridge Reservoir to our left, be ready for the turnoff to Tamolitch Blue Pool trailhead parking. The 3.7 mile round trip hike isn't exactly what I call hilly, but it's not quite completely flat either. Worth it though? Absolutely.
Fact #13: The eruptive history of this area is not that old… relatively speaking.
As we continue north, you will start to see evidence of the volcanic history of this area which is less than 3,000 years old. That's right…volcanoes exploding and releasing lava when Oregon was inhabited by the Native Americans. This area is still considered seismically active but we can't let that stop us from enjoying what this extraordinary area provides…after all, it could be 3,000 more years until something happens. Less than two thousand years ago, as the Romans were conquering Europe almost halfway around the world, Oregon was experiencing the most recent geological formative period. The Belknap Crater was producing lava flows that impacted this part of the Oregon Cascades. The lava flow covered up the river bed of the McKenzie, causing it to flow underground north of Tamolitch Blue Pool. In some areas, the encompassing lava landscape, will feel as if you have landed on the moon.
TA writer Christy and her dog at Sahalie Falls.
Fact #14: Sky and Heaven can be found here.
Up next, two spectacular waterfalls that I don't think we should pass up. Known by the Chinook people as "Sky" and "Heaven", Koosah Falls and Sahalie Falls drop the frigid waters of the McKenzie 70 feet and 100 feet respectively over the basalt lava that landed here 3,000 years ago. The first option for parking is the left here at Ice Cap Creek Day Use Area. This choice requires a hike north on the Waterfalls Loop Trail to get to Koosah Falls. Less than a quarter mile ahead, the small parking lot near Sahalie Falls offers an opportunity to view the waterfall just a short distance from the parking lot. Both parking areas offer bathrooms and interpretive signage about the geology of the area. Please be advised that during busy tourist times the Sahalie Falls parking lot area fills up. If you park alongside the highway, please be careful crossing the road as vehicles travel very fast down this thoroughfare.
Fact #15: Clear Lake has an underwater forest.
Clear Lake, at 3,000 feet, sits between the diverse ecosystems of the lava strewn High Cascades and the lush, dense forest of the Western Cascades.
Experienced scuba divers also brave the frigid temperatures of this lake to explore the underwater forest that was first petrified when drowned 3,000 years ago with the eruption of Sand Mountain.
You will surely feel the ghost-like eeriness of sitting on top of trees over 100 feet tall.
Fact #16: There is way more than one Clear Lake in Oregon.
There are 11 lakes listed as Clear Lake in Oregon! This one surely HAS to be the clearest!
Fact #17: Clear Lake has camping… but book the right spot!
Cold Water Cove Campground offers summertime camping next to one of Oregon's clearest, and coldest lakes. Reservations are recommended and make sure you book the right one. In the summer of 2017, we thought we booked a spot but it turned out to be the Clear Lake near Mount Hood! Luckily our plans were flexible and we went there instead… lucky for us, too, as forest fires had smoked out this area at that time.
Fact #18: Clear Lake has cabins, a store, and games.
Owned and operated by Linn County, Oregon, Clear Lake Resort offers many activities, boat rentals, and lodging options. Make sure to check the website for open details. From the Linn County website:
A sparkling lake, forests, and the beauty of the Cascade Mountains all combine to make Clear Lake Resort into a nature lover's dream. Whether you're looking for a quiet place to fish, amazing views, or a place to bring the kids for an adventure, you'll find it at Clear Lake Resort. Visitors can enjoy a hike, run, or bike around the Clear Lake Loop Trail or connect to the 26 mile McKenzie River Trail. The Resort is located near the McKenzie and Santiam Rivers; great waterways for river rafting, floating and boating.
Fact #19: Clear Lake has awesome hiking.
It is best experienced taking the 5 mile hiking path around the entire lake. A mixture of forest paths and lava terrain, it provides for an easy day hike after the snow melts each June.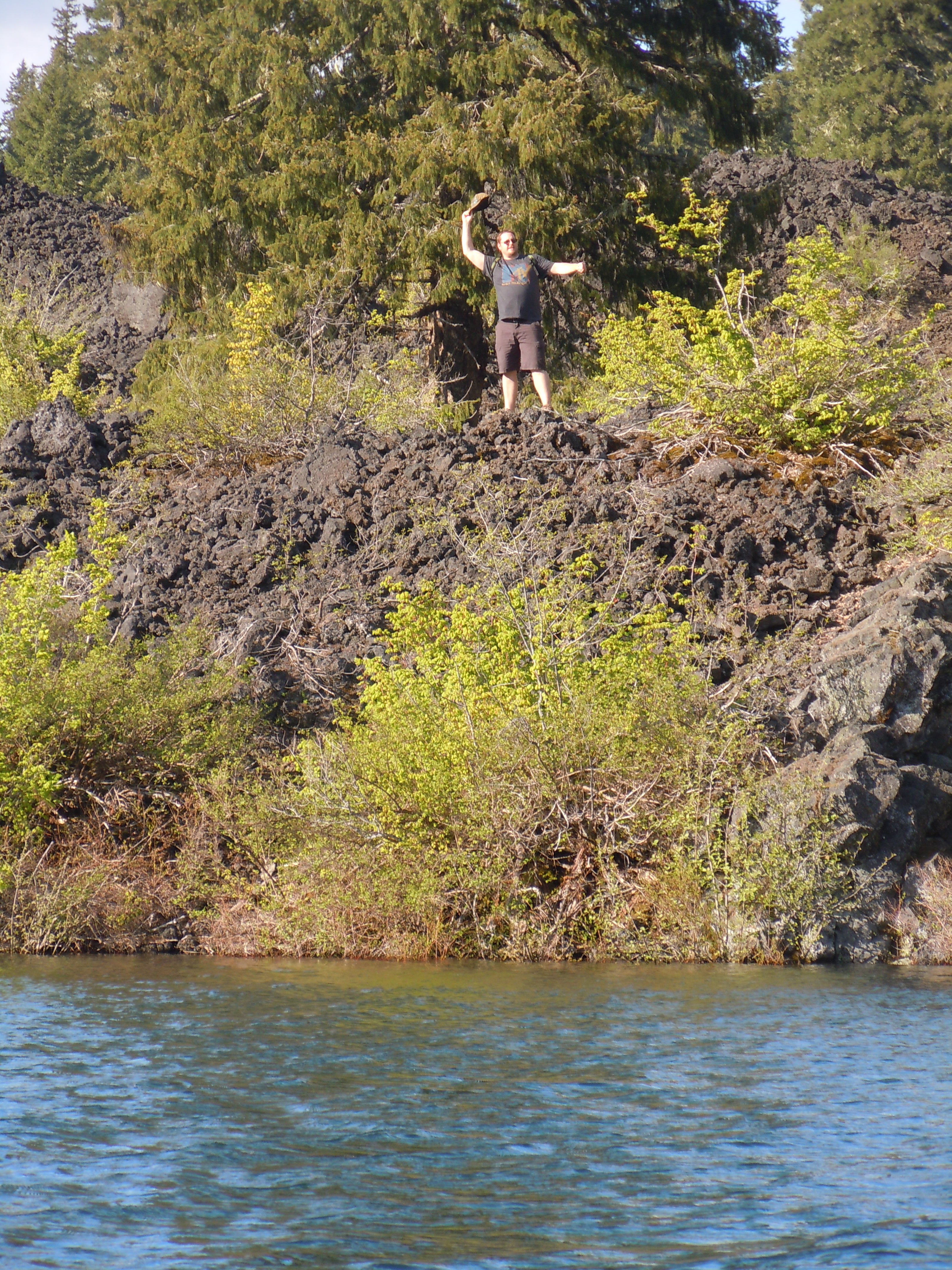 Fact #20: Clear Lake is best experienced on a boat… but don't swim or fall in!
The spring fed lake offers excellent non-motorized boating opportunities and fishing with the annual stocking of rainbow trout along with brook and cutthroat trout that reproduce naturally. However, as with all water activities, please be safe, wear a life jacket, and know your surroundings. This lake is COLD and hypothermia can set in within minutes, no matter what time of year!
We hope you enjoyed our 20 facts in 20 miles of the Clear Lake Cutoff!
With Together Anywhere, you can experience a road trip like you never have before. Our GPS location based app tells you stories and places to visit that you may have missed before. We've spent years discovering, researching, and writing down the best information that make these areas worthwhile destinations, especially during this time of social distancing and staying close to home.
We hope you take the time to explore our app and learn more about your Oregon! Your adventure is ready with Together Anywhere.