In this time of social distance measures, many of us have been good citizens, staying home to stop the spread of COVID-19. But has anyone started to feel that itch to go somewhere, even if you can't interact?
Together Anywhere has created a way to explore Oregon through stories while driving, remaining separate from other travelers as you go down the road, learning more about this beautiful place we get to live. This short post is an example of our tours, except our tours speak to you! You just download the app, choose your drive, and you are on your way!
This segment covers just 5 miles of road as we head east from Santiam Junction up to the Santiam Pass. It is available to hear on both of our Cascade Mountains tours between Salem, Eugene, and Bend.
Are you ready? Let's go take a mini-road trip!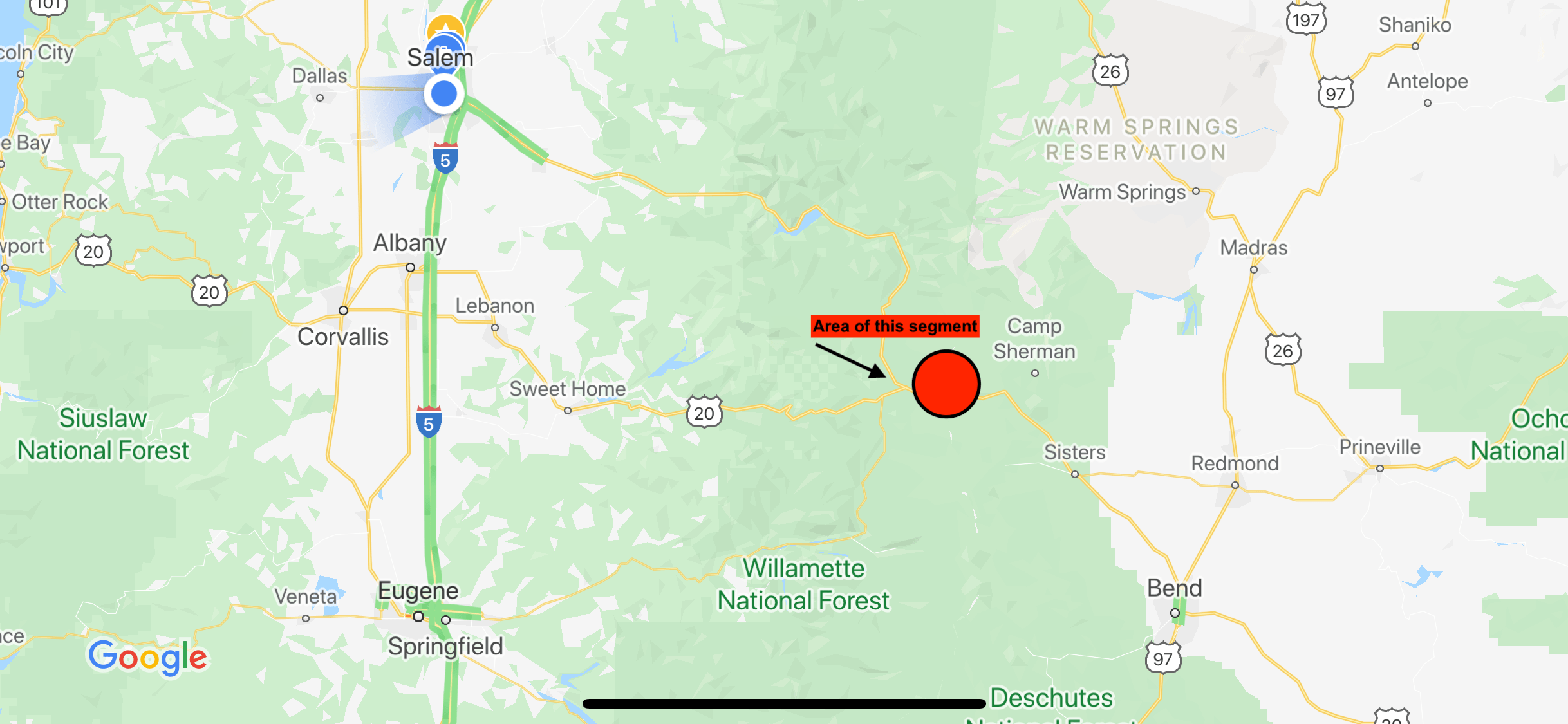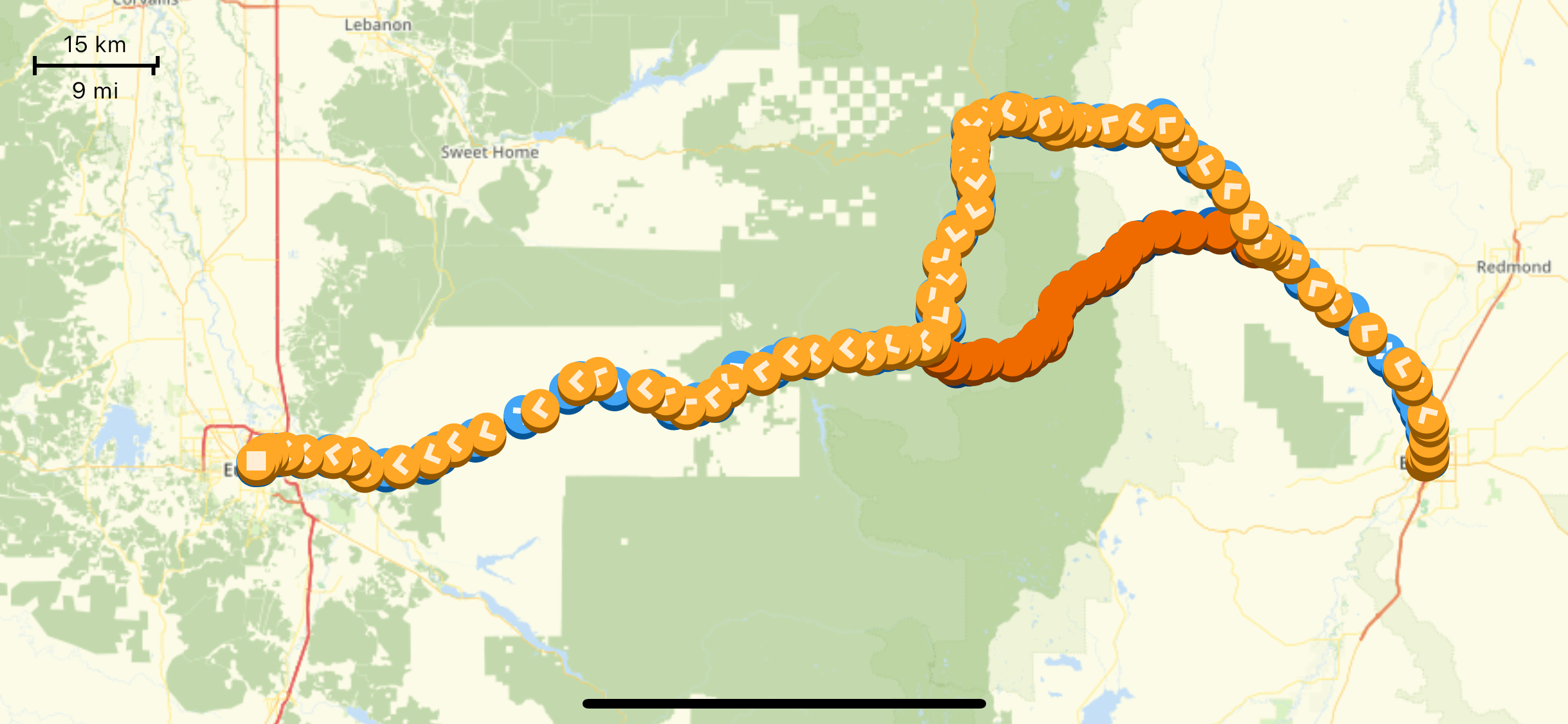 Our tour starts at the Santiam Junction. This merger of three highways is known as the Santiam Junction. Travelers heading east on Highway 126 from Eugene, Highway 20 from Albany, and Highway 22 from Salem have now merged to head over this mountain pass together. Two of the highways diverge to their own destinations further east once we arrive in the town of Sisters.
Heading east from Santiam Junction, you might first spot a view of Three Fingered Jack on the left, a unique peak in the Cascade range, remarkable for its' three spires jutting out from the top. Rumor has it that this is named after a three fingered trapper named Jack. Both Mount Washington (ahead on the right) and Three Fingered Jack are about 8000 feet up and both were first summited in 1923. Still today, they should only be attempted by the experienced climber. Just as you notice the mountain, you find one of the twenty, yes twenty, lakes named Lost Lake in Oregon. This one is likely the most aptly named as it has a mysterious seven foot hole at one end that quickly starts to drain the lake as it fills up from snow run off each spring. Many a fisherperson has tried to plug the hole with debris and earth, in order to save their catch, but to no avail. There is no blocking a three millennia old lava tube that sends water down towards Clear Lake, about six miles away. By summer, the lake is almost completely gone but offers a meadow surrounded by willows with first come, first serve camping, hunting and fishing, well, as long as the hole doesn't get to them as well.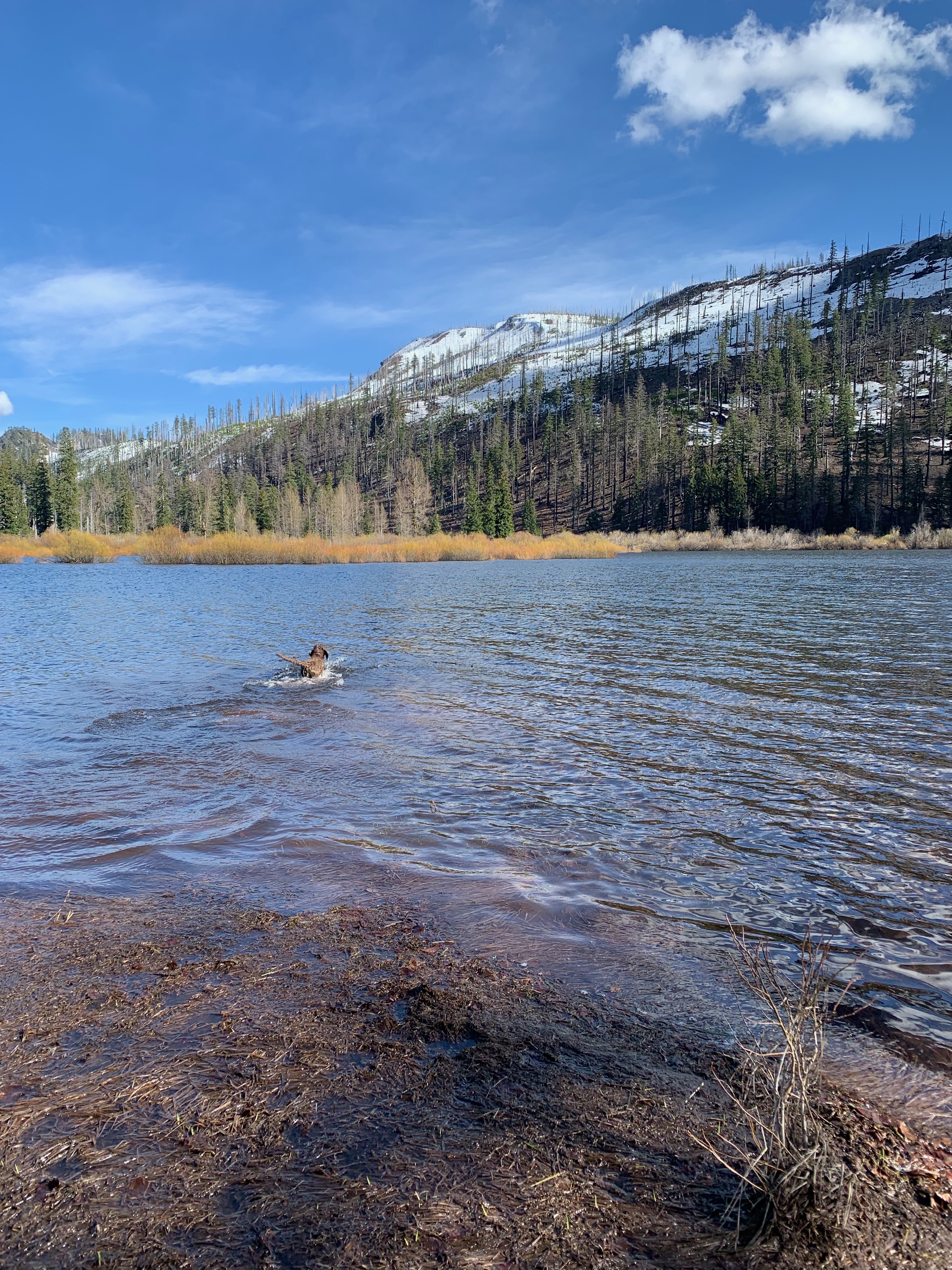 As we continue to approach the pass, you will start to notice the landscape change dramatically from a lush, green forest to fallen trees and bare trunks, leaving behind a ghost like forest. This is the remnants of the B&B Complex fires that burned for nearly 35 days in the summer of 2003. What first began as two lightning caused fires, the Bear Butte Fire and the Booth Fire, eventually became one as it tore through 90,000 acres, or seven times the size of Crater Lake, of the Willamette and Deschutes National Forests, along with parts of the Warm Springs Indian Reservation. Over 2000 people worked to suppress this fire for over a month, costing almost 40 million dollars. It's always been a little sad passing this area, but as the years have gone by we can see new life springing forth from the ground, demonstrating the resilience of nature and a future lush forest in the making.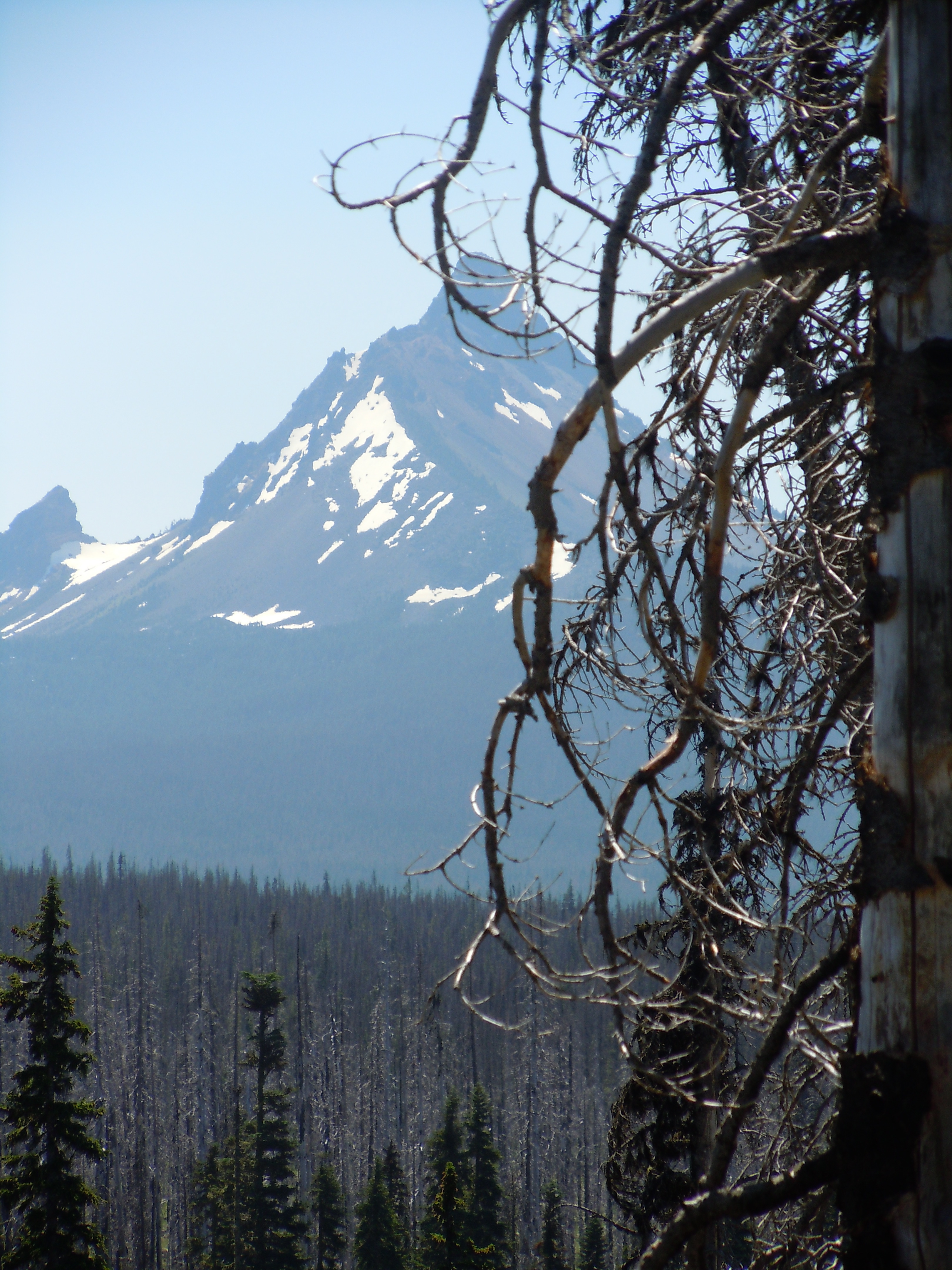 As we continue to gain elevation, you may notice a steep grade to the south of Three-Fingered Jack. That giant rock is an 80,000 year old flat topped volcano and there is quite a story here. Colonel Hogg was a confederate officer sent to Alcatraz Island to serve his post-war sentence. After release, he came up to Oregon with a dream: to build the next great railroad. He worked for years securing local and international funders, promising them wealth beyond their imaginations. If Colonel Hogg had successfully built the railroad he desired to engineer between Newport and Boise, Idaho, we would probably be driving on Hogg Highway, crossing the formerly named Hogg Pass, and the Hogg family would be in Hogg Heaven. But long story short, Colonel Hogg went bankrupt after spending 5 million dollars on the railroad in the 1870s, which would be equivalent to over 100 million dollars today. You can learn more about Colonel Hogg and his ill-fated dream from Oregon's most prominent outdoor writer Bill Sullivan, in his book "Hiking Oregon's History."
Next, we near Hoodoo Butte. A ski area since 1939, and still in use today. Hoodoo has 34 runs, 5 lifts and one of the largest tubing parks in the West. You can explore the 800 acres of terrain in the winter by turning right up ahead. Ray Benson SnoPark is highly popular as well and can by found at the same turn off. It offers a network of eight trails providing over 60 miles of exploring for beginning to advanced skiers, snowshoers, snowmobilers, and even dog mushers! Big Lake, further down the turnoff is located along the historic Santiam Wagon Road and offers campgrounds and summertime lake escapes for swimming, motor boats, and water skiing. Santiam SnoPark on the opposite side of the road is popular with families for sledding and tubing. You can also access the Pacific Crest Trail from this location.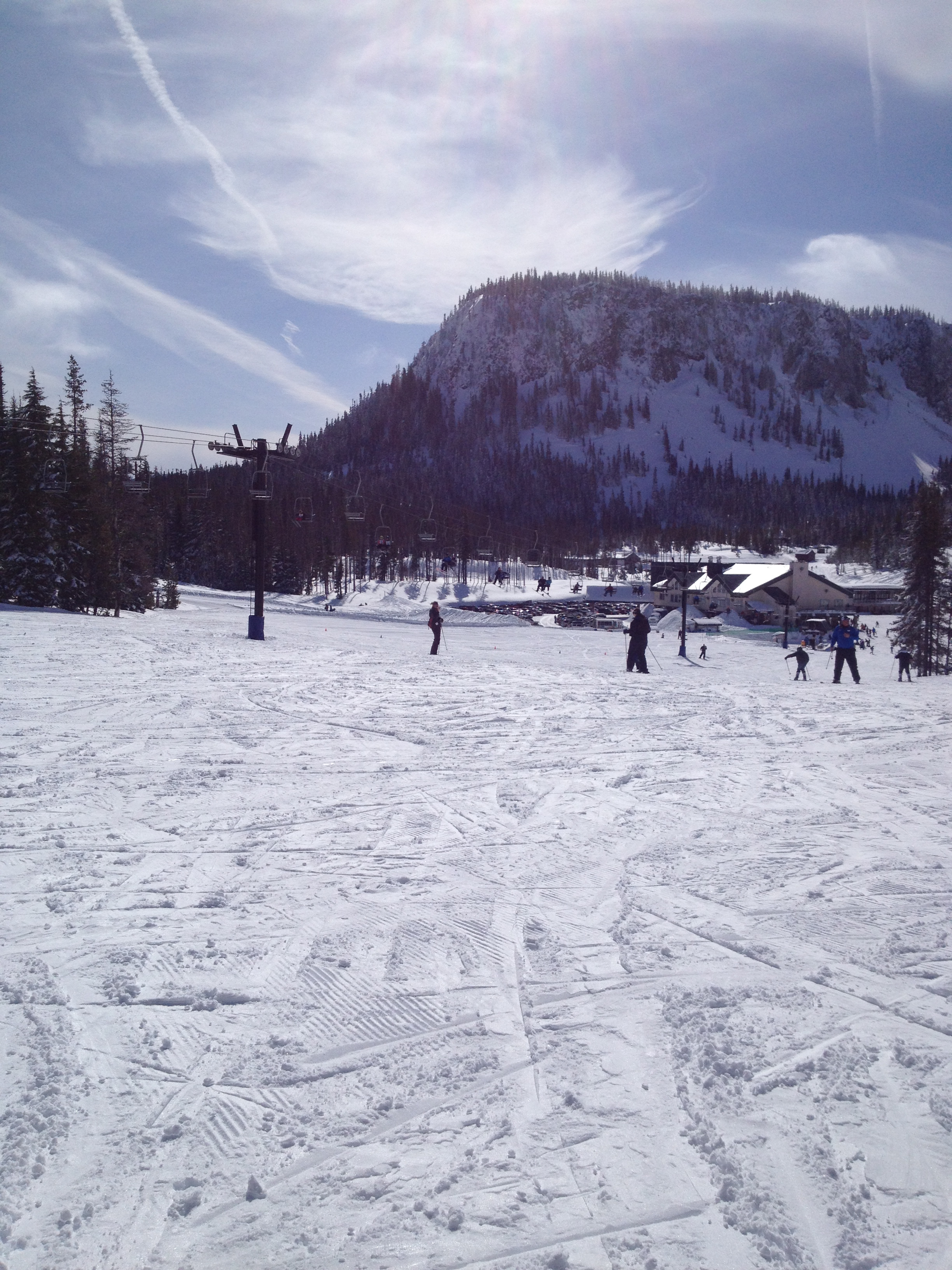 In less than 5 miles, we have made it to the Santiam Pass Summit at 4,817 feet and crossed over the Pacific Crest Trail, known as the PCT for short. So what exactly is the PCT? The PCT is a 2600 mile hiking route that extends from the border of Mexico all the way to the border of Canada, through California, Oregon and Washington. Less than one thousand people attempt to hike the whole route each year and just over half of them actually make it. Oregon author Cheryl Strayed made her 1990s hike through the PCT famous in a memoir by the name of "Wild" that was later turned into a movie starring Reese Witherspoon. Many parts of the PCT are available to hike in Oregon, check out Travel Oregon for a list of popular PCT day hikes.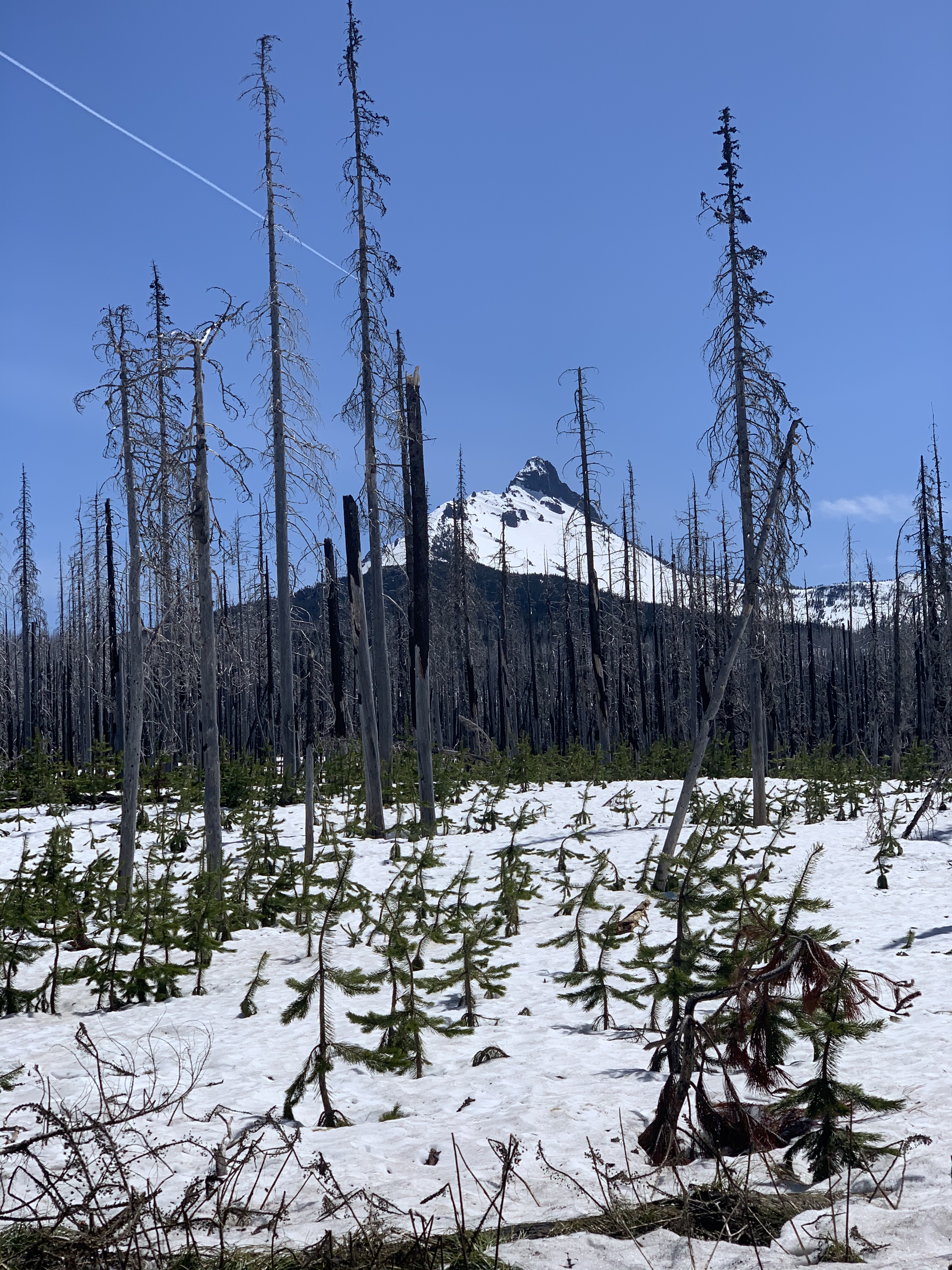 Before we leave our stories today, let us imagine it just over 150 years ago. Settlers had been arriving to the Willamette Valley for over 30 years and it was getting quite crowded. The Donation Land Claim Act of 1850 had allowed husband and wife settlers to claim 640 acres of land in the Oregon territory. This free land would be worth over 10 million dollars in today's terms! In just ten years, the population of Oregon increased from 12,000 to over 60,000 people! It is therefore no surprise that the dream of free open space and promises of gold resulted in a new "go east" mentality by the late 1860s. The Willamette Valley and Cascade Mountain Road, locally known as the Santiam Wagon Road, was officially opened in 1868 and allowed travelers to go all the way from Albany to Ontario, Oregon, nearly 400 miles. It was the first road to be built from west to east, hoping to give those settlers from the valley opportunities for cattle and sheep grazing as well as faster access to the gold that had been discovered in Eastern Oregon in the late 1860s. Ranchers quickly discovered that Central Oregon was not ideal grazing land but it did allow for population growth in what we now call the High Desert region. The wagon road was paved in 1939 and became what we know today as the Santiam Highway 20. We'll head further down the 75 year Santiam Wagon Road history in a future Together Anywhere drive from Albany to the Santiam Junction.


This was just an example of six points from our 200+ points of narration between Salem, Eugene, and Bend. We have so many stories ready and waiting! Just download the app and head out for your next Oregon mini-road trip, even for just a few hours. And remember… wear a mask!
The Together Anywhere Audio Guides are available on both Apple iOS and Google Play stores.