Last week in Part One, I talked about beginnings. I wrote about fairy tales. I pondered love. Since the time of that post, Arnaud and I celebrated our 3rd wedding anniversary at one of our favorite wineries. No, we didn't go booze it up in the time of social distancing. As it is in the middle of the country and very private, we messaged the owner to see if we could be allowed to have a picnic and let Otter run around. She thankfully obliged.
Some people have children, we have Otter. He has become a main character in our "how to start a travel business" story so don't worry, he will come back in the story.
#1 (of how to start a travel business): Fall in love with traveling
To catch you up if you didn't read last week, Arnaud and I met 5 years ago in Belgium. We spent our first 4 years together adventuring in various parts of the Western Hemisphere: ten days circumnavigating Iceland via the ring road in a camper van; three weeks of Spanish language school, waterfalls and hot springs in Costa Rica; two weeks of Cuba (pics below) in classic car taxis and casa particulares; a honeymoon with lots of snorkeling on the Big Island of Hawaii; traversing the country of Canada from Nova Scotia to British Columbia; and road tripping much of the United States. Since Arnaud's first trip to the US less than 4 years ago, he has been to over 40 of the 50 states. Luckily we travel well together.
#2: Prioritize your health (both mental and physical)
Any full time worker will ask: how did you do it? Where did you get the vacation time? We were creative. When I met Arnaud, I was taking care of my mental health recovery while he was recovering from over 15 years in corporate and government work as a software developer. His stress and health had taken a toll on his body and he discovered he had an autoimmune disorder, Hashimoto's, meaning that his immune system had attacked his thyroid. Vowing to never return to the corporate world, he had gone back to school for engineering in 2016 but wasn't quite sure this was his path to take either.
#3: Be willing to leave the comfortable (i.e. state employment)
If you recall from the last post, in 2015 I was also in an unhappy place of work. Eight years at the state psychiatric hospital had turned my from an idealist optimist to a realist pessimist. That is part of why I fled to Europe on the trip where we first met. The previous years had made me a master at stretching my vacation and sick time and, when it came to the Europe trip, I took approved leave without pay. When I returned to the job after traveling, I was ready for a change. The search for new employment was on.
In November of 2016, I finally had my release from the psychiatric hospital when I was offered a position with a therapy company that worked with a federal contract at Chemawa Indian School. I left my stable, predictable, benefit heavy job at the state for an hourly position that required me to purchase my own health insurance. Was this smart? One big bonus to the new job: SUMMERS OFF. Of course it was smart!
#4: Develop your side hustles
By this point, we had a successful Airbnb. When we were home, Arnaud took care of the day to day for the Airbnb while I went to my day job at Chemawa. In 2018, I decided to also start a private therapy practice and slowly build a clientele so that one day, in the far away future, I could be fully self-employed.
#5: Travel with intention to find the next great idea
Arnaud and I spent the summer of 2018 traveling for 3 months with a mission in mind: find the next great idea to start a business. We wanted to figure out how we could continue traveling and learning and growing throughout our lives, not waiting for retirement or that "someday". And then it happened. The next great idea.
The narrated tour app was perfect thing to build. It was everything we were looking for: technology based, full of information and stories. The first one we stumbled upon changed our world and everything about the way we traveled. Building this product for Oregon travelers meant that we could travel our own state, learn, and share about the real stories behind the places to increase connection. And maybe, just maybe, we could expand beyond Oregon someday and create tours anywhere, together.
That is the next great idea: we can be Together Anywhere!
We could work on our own time, develop tours at our own pace. Arnaud could build the technology from the ground up. I could be a journalist, a storyteller, and a historian all that the same time. My inner nerd was ready to get going!
#6: Find your partners
But we were missing a narrator. And Arnaud and I knew it would never work with just the two of us. We knew we needed someone with charisma, someone to balance out me and Arnaud. Someone creative and someone willing to take a risk and dive into this project. We knew the answer right away. Andrew Hussey. I had met Andrew ten years prior playing music in Salem. We were in a band together, we partied together, we lived together, we had been through friendship ups and downs but always recovered. He is a brother and a best friend, and now over a year later since starting the business, there is no doubt he is the perfect partner. To convince him to join us, we took a trip to Glacier National Park in Montana for a long weekend with Andrew and his wife, Jen. Here is the day we officially formed Together Anywhere: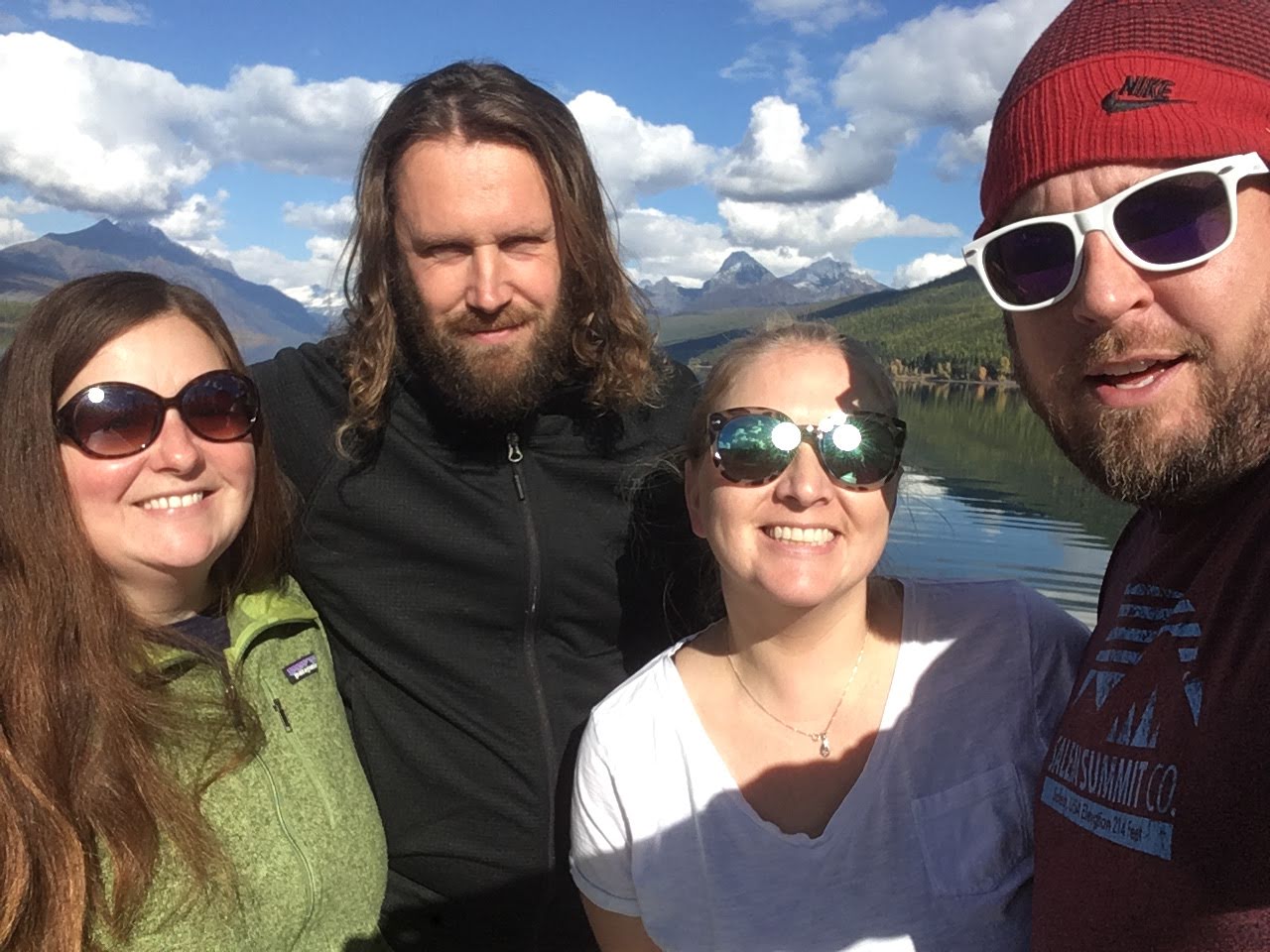 #7: Be ready for the unknown
We started our weekly partner meetings in October 2018 with a goal of releasing our first tours in the summer of 2019. Arnaud was full-time Together Anywhere, building the technology and creating the business structures while Andrew and I maintained our other full-time employment, doing our Together Anywhere in the non-existent extra hours of our days. Our company was funded through years of savings we were willing to risk for this next great idea.
Then in January 2019, the unpredictable occured: I lost my full time employment. The contract was lost, the company folded, I left the kids at Chemawa without a goodbye. I was heartbroken. And we were scared. No solid income, we only had Airbnb and our savings that was earmarked to start our new company. I only had three clients in my private practice. I filed for unemployment for the first time in my life.
#8: Look for the opportunities and resources
Even in this chaotic time of COVID-19, I really do still believe that the American entrepreneurial dream is the backbone of our society. And maybe it's the ideal optimist that wasn't destroyed in me (yet) but I do think that our government wants small businesses and individuals to succeed. The State of Oregon made my next step possible with a Self-Employment Assistance (SEA) program in 2019. After losing my job, I was faced with interviewing and possibility of returning to full time employment. Two weeks vacation and one earned sick day a month? No thank you. The SEA required a business plan to be accepted to their program. I proposed my therapy business, to grow my clientele. They approved my plan and provided me with an entire six months of unemployment wages without requiring me to look for work. To this day, I am beyond grateful to the state of Oregon. I would not have had the confidence, nor the financial wherewithal to bridge that gap. They made it possible.
In addition to programs like the SEA and joining the world of small businesses, I am amazed with the resources out there like the Small Business Development Centers, state agencies, and tons of podcasts. I have learned so much out there for free and it feels like I have been to school for a third masters degree over the last year.
#9: Embrace your supporters
After the upheaval of stable life during the first part of 2019, Arnaud and I found some stability with Otter, a labradoodle puppy born adopted on January 21, 2019, one week after losing my job. Since we were now officially both self-employed, our days of big travel were on hold and we found ourselves spending more time at home (also our office). Otter has been the best co-worker, companion, and supporter ever. He brightens the day and gives us reasons to leave the house for walks or the dog park.
Less than 5 months after losing my employment, we successfully launched our product on June 2 with a party bus launch event. I reflected on wondering how it could have even been possible to do this while working full time. It would never have happened. Friends and family gathered for the event and celebrated what we had built as a team, becoming part of the Together Anywhere community.
Later that month, we held a public launch event in Central Oregon where over 70 people convened upon a campground for a long weekend. It was the highlight of my year. We could not do any of this without the people who cheer us on and give us feedback and support. Thank you to those who have been there the entire way and to those that continue to join. A big specific shout out to our friend Taylor Allen for his amazing artwork he provides for our branding.
#10: Change plans when necessary
2020 was going to be our year. We spent the winter of 2019-2020 preparing and diving over finances and strategic planning. Our commercial launch was set for April 1 with large marketing contracts already in the works. And then March 11. The day Oregon shut down. People have been laid off, small businesses destroyed, and people are dying. The economy is in shambles. The tourism business is fucked for years to come. Our Airbnb is on pause, our contracts on hold. We have completely changed all of our plans as most people, and businesses, have. And the most difficult part? We don't know how long it will last.
Together Anywhere could give up. We could stop dreaming and moving forward. No way. That is no way to deal with crisis. We keep going, we keep writing, we keep developing, we keep connecting, we keep moving, we keep allowing for the impossible, we keep working hard and we keep going because we are in this Together. Anywhere and everywhere.