*Disclaimer: not all locations may be open due to COVID-19. Please follow all posted guidelines for individual locations.*
Hello fellow travelers. We are Together Anywhere, a partnership of lifelong and transplanted Oregonians and your tour guides for a new, Oregon-based, GPS audio driving tours. This tour section down the McKenzie River is just one small part of an ever growing network of tours on our app.
If you are more of a watcher than a reader, you can check out our McKenzie River Road Trip YouTube video here. And if you want to take an ACTUAL road trip, just make sure to download our app for Apple iOS or Google Play before you go. The following are just ten of the HUNDREDS of narration points along Oregon roads.
Ready to take a road trip? Well let's get going!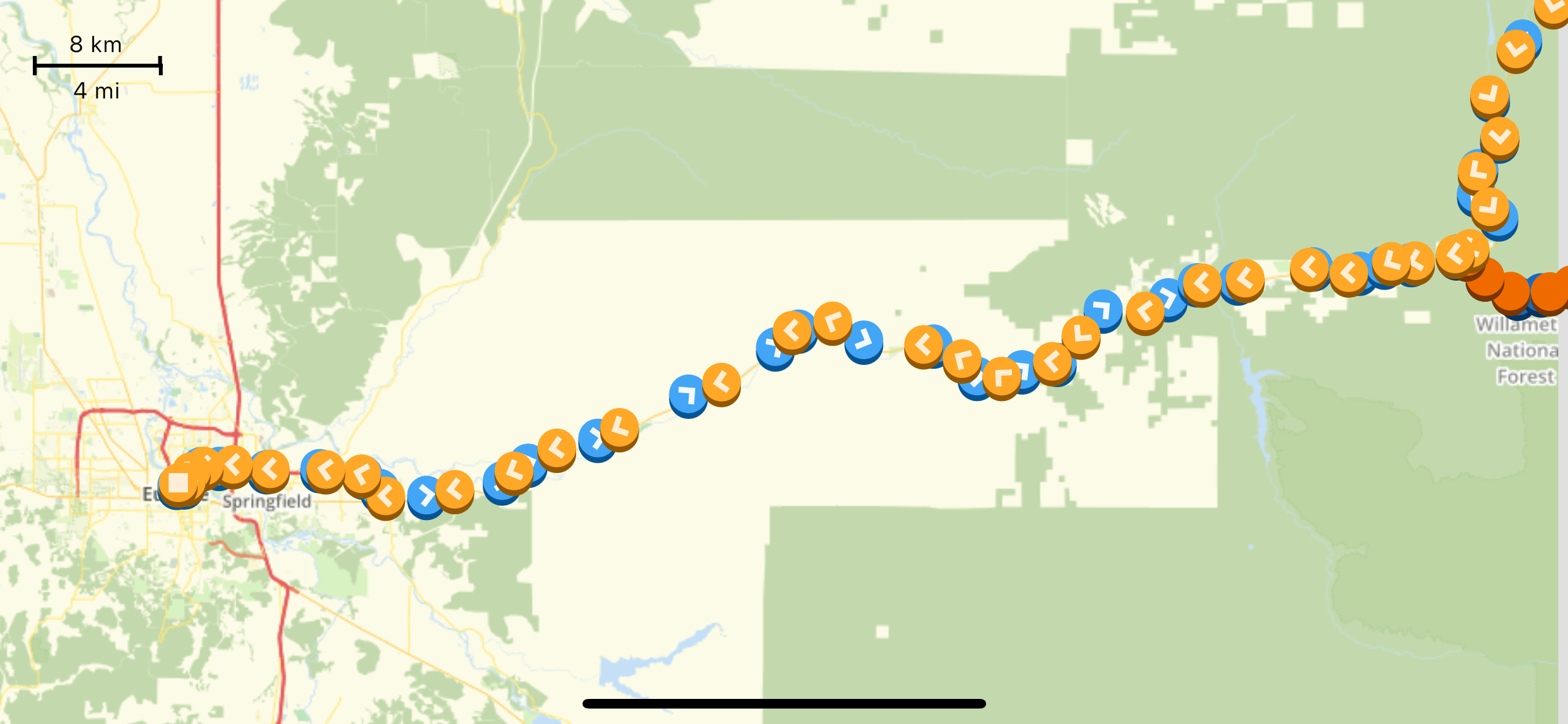 Location #1: Downtown Eugene. Our journey begins at the Eugene, Cascades and Coast Visitors Center. If you have completed our introduction and taken time to explore the resources available then let's start with our brief trip through Eugene and Springfield! As we leave downtown, you can catch a quick glimpse of Alton Baker Park, which is settled on the Willamette River. Like most of Eugene is, this park filled with walking and biking paths and a great place to relax. The Mckenzie River links up with the Willamette about 5 miles north of here, and the Willamette runs north to Portland where it connects to the Columbia River on its way to the Pacific Ocean. We next pass the turnoff for Autzen Stadium, home of the Oregon Ducks!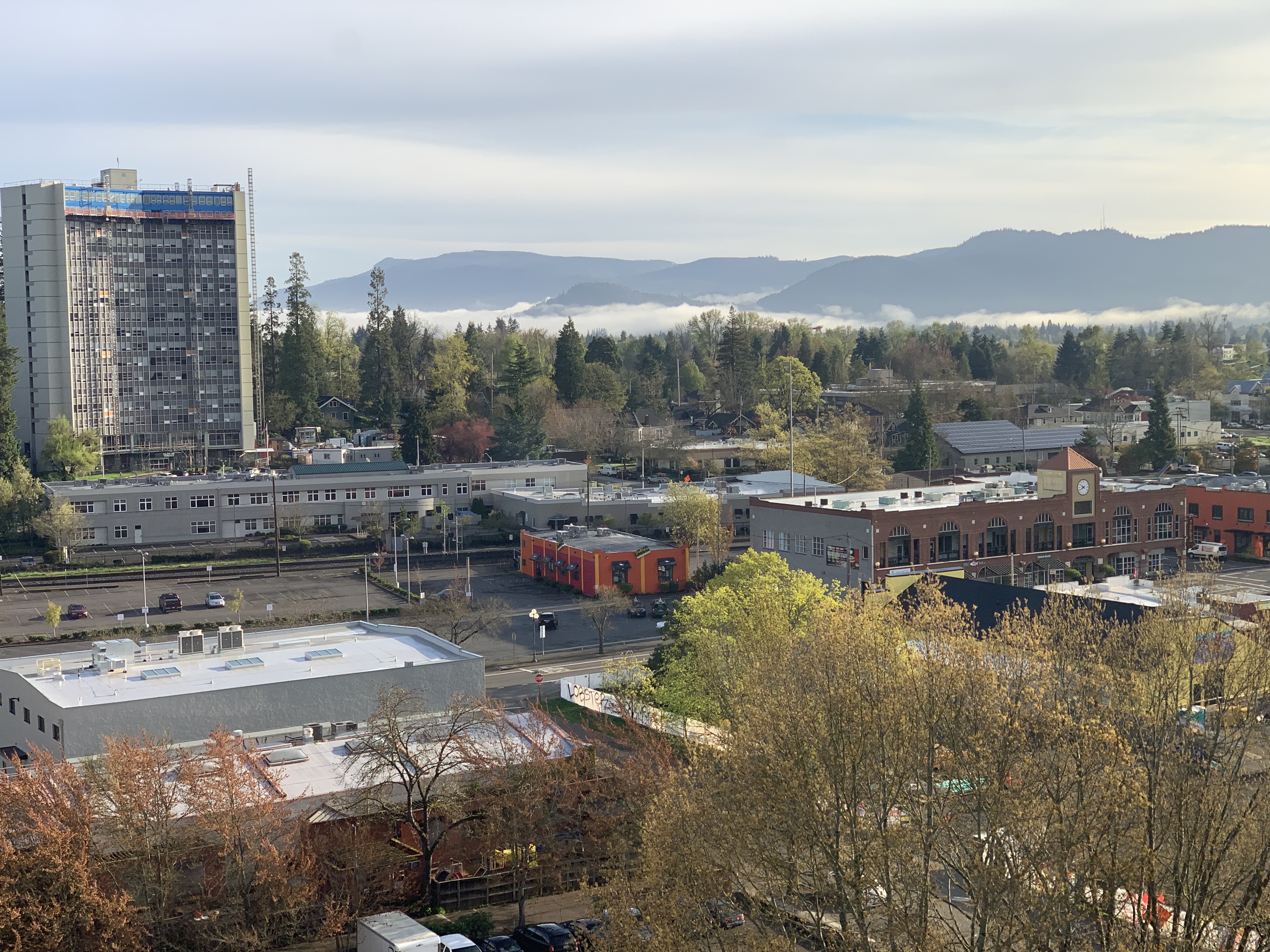 Let's continue straight towards Highway 126 as we are now leaving Eugene, a really special town if you are an outdoor enthusiast, sports fan or just looking for a unique cultural experience. We really hope you get a chance to come back and visit. I can't say unique and Eugene in the same sentence without mentioning notable author Ken Kesey. Raised in Springfield and attended the University of Oregon, his famous book "One Flew Over the Cuckoo's Nest" was later made into an Academy Award winning movie that was filmed right down the road in Salem. We are looking forward to providing you with a great Eugene specific experience in future Together Anywhere Guides.
Location #2: Springfield, Oregon. Now entering Springfield, and as I like to think of it: the home of the Simpsons. My favorite animated family made their mark on American television by becoming the longest running US sitcom in history. Though it's not officially recognized as the home of the Simpsons, this Springfield has taken some ownership over the idea considering the creator, Matt Groening, is from Oregon and drops plenty of references throughout the show. They even have an unofficial tour with three stops: You can start by visiting a statue of a rider outside of the Chamber of Commerce that surely must be Jebediah Springfield. Next, you can go have a beer in Moe's Tavern. Sure it was opened after the show began in 1987 but, it's still nice to sit back with a drink and enjoy the Simpsons memorabilia. I wonder if they make Flaming Moes? The last stop of the tour, the Emerald Art Center at the corner of Main St and South 5th for a couple great photos. Inside, you can sit next to a larger than life version of the family on the iconic orange couch. Outside is a mural that Matt Groening himself collaborated to create for the city in 2014. Sorry Springfield, Vermont, if that doesn't make it official, I'm not sure what's gonna convince you.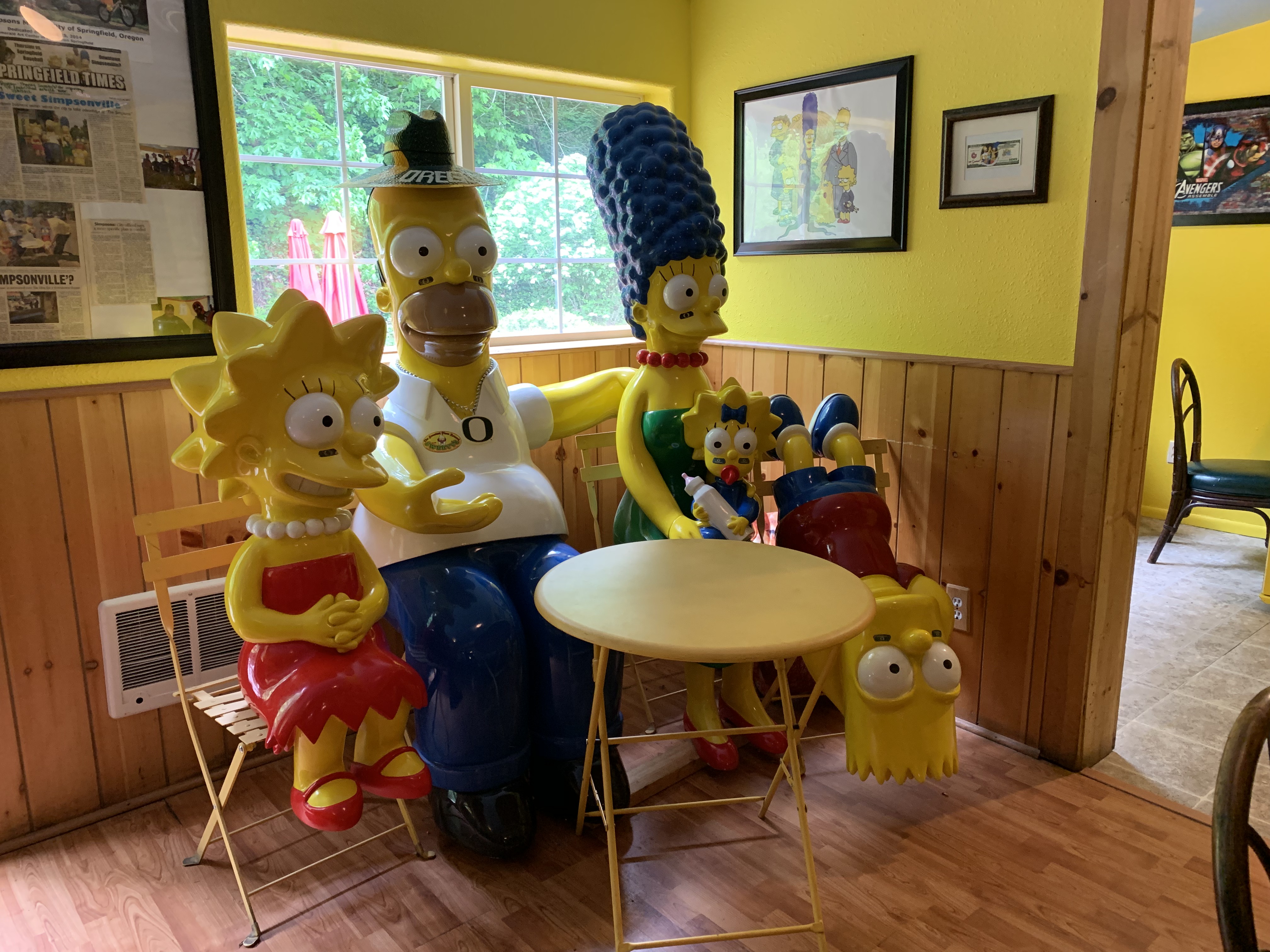 Location #3: Hendricks Bridge Park and the McKenzie River. Now approaching Hendricks Bridge County Park. I wouldn't suggest pulling over as we are just getting going, but I thought you should know that the former ferry here used to transport people, animals, and goods to the Eugene-Springfield area. And just like that, it's our first look at the McKenzie River itself. The next 50 miles will be filled with views like that and even some spots where the frigid water's color turns deep blues and greens as we get closer to the headwaters near Clear Lake. But, it's gonna stay flat for a little longer. It's actually a little too flat for this wet and rainy area. In the 1800s and early 1900s, six dams were built in the McKenzie River watershed for struggling residents and farmers: three on the river and three on tributaries feeding into the river. The McKenzie and these dams now provide electricity and is the sole source for drinking water for over 200,000 people in the Eugene-Springfield area.
Location #4: Goodpasture Bridge. Covered bridges carry with them a charm and romanticism of times gone by. And in Oregon, we are lucky to have many of them preserved. Before the development of concrete bridges, wooden bridges had a lifespan of less than 10 years if they were not covered in some way. The bridge that is up ahead has stood the test of time since 1938. It boasts itself the second largest covered bridge in Oregon at 165 feet long. The best way to get a photograph is on the river, either indulging in a trip down the river in a famous McKenzie dory boat or on a raft adventure from one of the many outfitters in the region. If you are looking for a quick stop, just pull over, take a photo or even drive over the bridge. The town of Vida up ahead was once a vital link between Eugene-Springfield and the upper McKenzie area. This community now offers a stop for gas and some food and a couple lodging opportunities to serve as a home base for your fishing or outdoor adventure.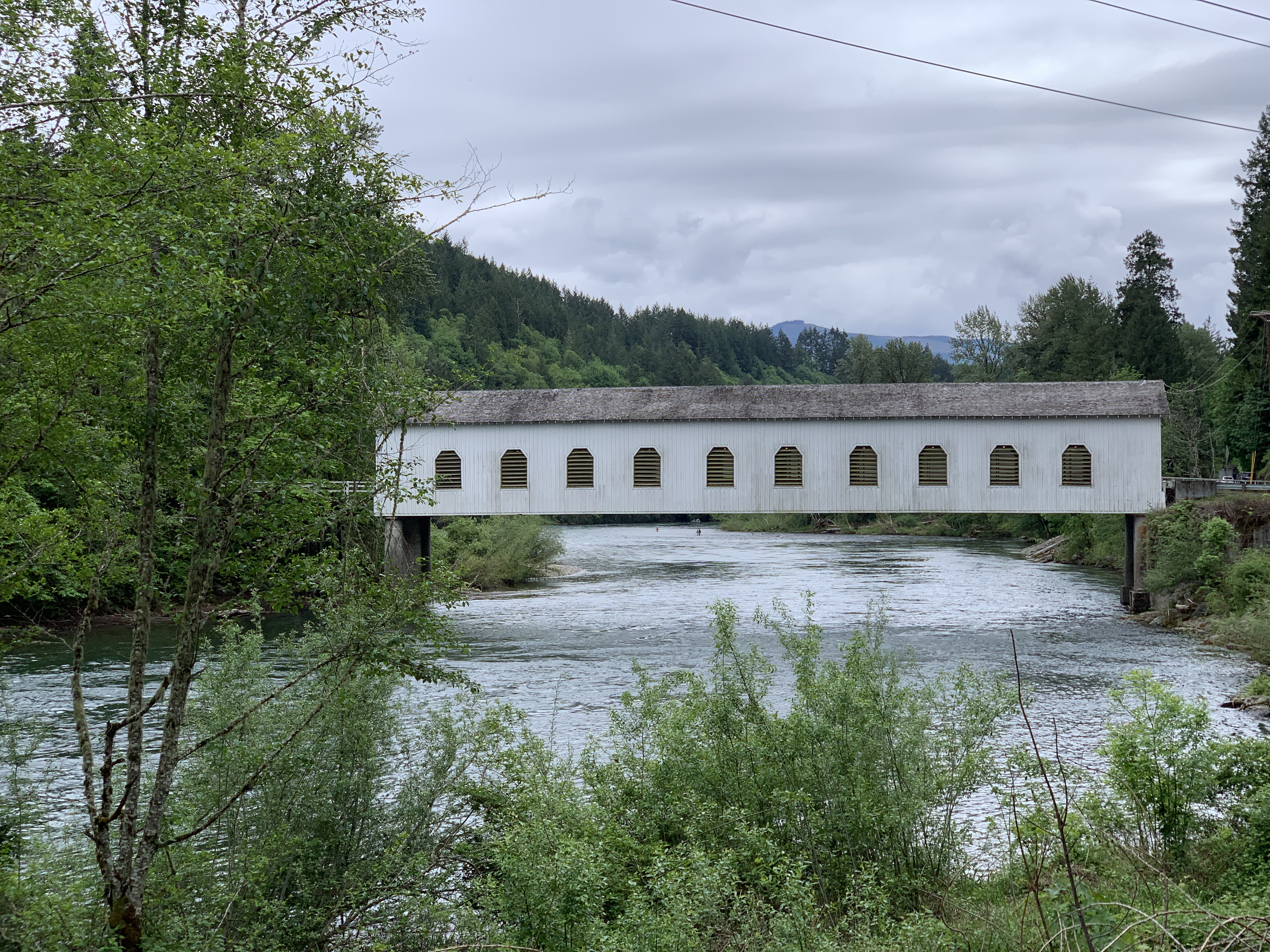 Location #5: Ben & Kay Dorris Park. In the early 1940s, Ben and Kay Dorris donated their land to the state which is now a day use park up ahead. The couple was connected to both the timber industry and the river guide community, as many settlers in the 1900s were. Today, this 79 acre property maintained by Lane County offers picnic areas and restrooms as well as the unique chance to view rafts, McKenzie River dory boats, and kayakers go through Marten Rapids, one of the more popular water features on the McKenzie River. Just a half mile east of the entrance is a rock overhang where John Templeton Craig is said to have often stayed the night on his journeys down the McKenzie River. Who is John Templeton Craig? If you are joining us on the McKenzie Scenic Highway 242, you will soon find out!
Location #6: Finn Rock. Now that we have passed the town of Nimrod, we are passing Quartz Creek Road on our right. This road crosses a one lane bridge over the McKenzie and takes us to Finn Rock Landing, a pretty convenient and quiet stop with a restroom and boat launch. After we pass Quartz Creek Road, we encounter Finn Rock itself. Not named after a shark fin but a man by the name of Benjamin Franklin Finn, a settler in the area known as the "biggest liar on the McKenzie" even claiming that Mark Twain's character, Huck Finn, was based on him. There used to be a post office and a large logging camp there and is protected by the McKenzie River Trust, a non-profit land conservation group. The Finn Rock Reach was a focus area for a $4.6 million dollar campaign aimed to protect this place for decades to come.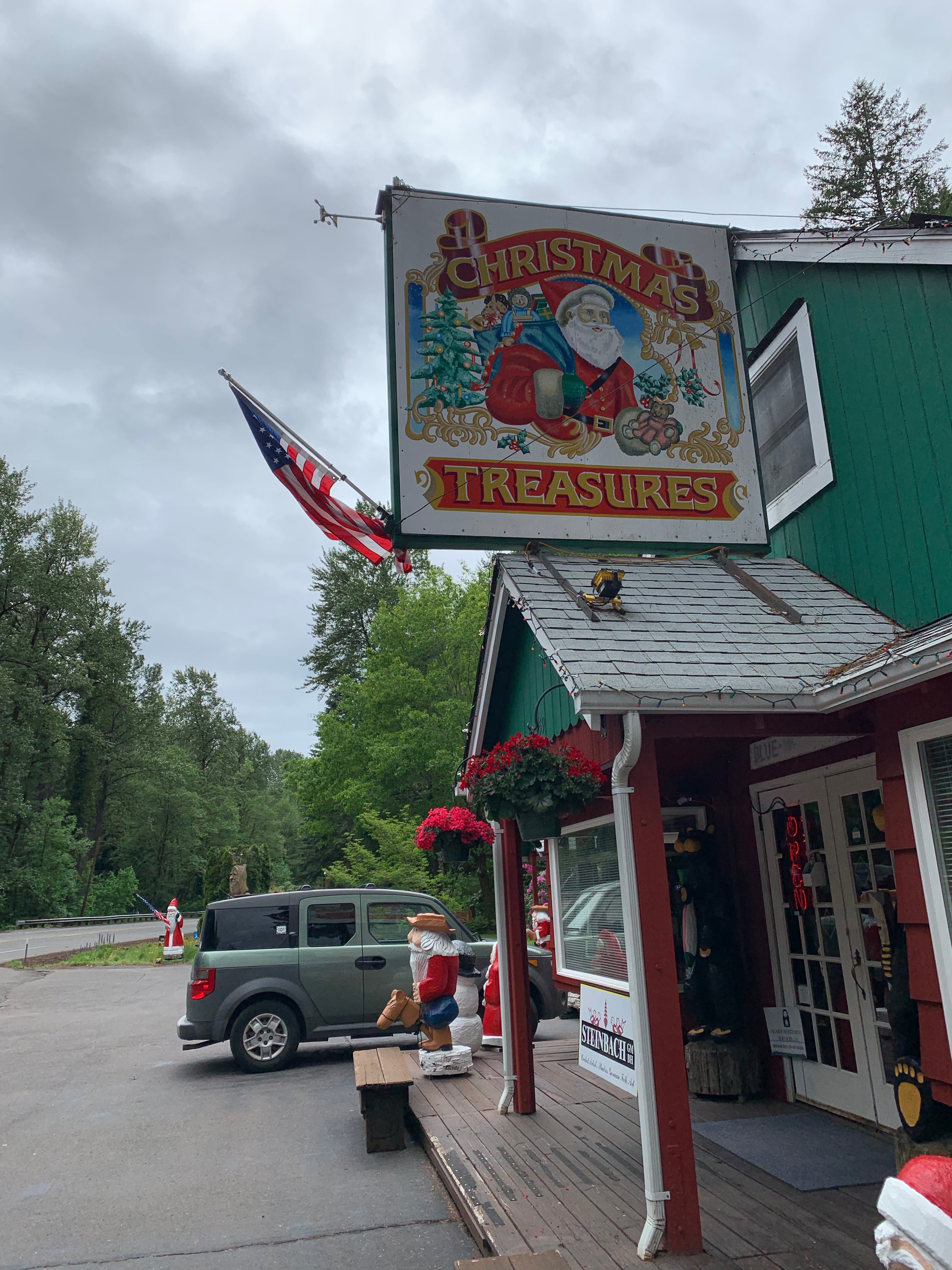 Location #7: Christmas Treasures and Blue River Reservoir. It's beginning to look a little like Christmas in the forest. Coming up on your left, Christmas Treasures, the self proclaimed World's Best Novelty Christmas Store offers 15,000 unique gifts from around the world and is open year round. If you prefer to just jingle on by, Old Scout Road, the turnoff a minute past the store on your left, has been called the "gateway to the beginning of a recreational wonderland." Down that road you can find Blue River Rd. #15, for campgrounds, hiking and H.J. Andrews Experimental Forest, one of 5 ecosystem research forests in the United States. If you are up for a longer search in that network of forest roads, you can find Wolf Rock. At over 900 feet tall, it is the largest monolith in Oregon and the third largest in the world!
Location #8: Cougar Hot Springs/Aufderheide Drive. As the trees start to get a little more dense here, it is safe to say that there is something to be discovered down almost any road you take. Aufderheide Drive on our right needs a couple hours to really enjoy the scenery that makes this drive so special. Sixty miles of windy and sometimes treacherous roads take you past an overhead view of Terwilliger Reservoir and one of my favorites, Cougar Hot Springs, with a short hike and a small fee necessary to get in. It is clothing optional and very popular, but we are lucky to have it reopened after it was one of the latest victims of human caused wildfire and closed for just under a year. The drive eventually connects to the town of Westfir which makes it a popular ride for motorcyclists and cyclists if you have legs of steel. There used to be a free cassette and CD audio tour of the area. But, most people who borrowed the tours never returned them. So I guess you are just stuck waiting for us to make one for now.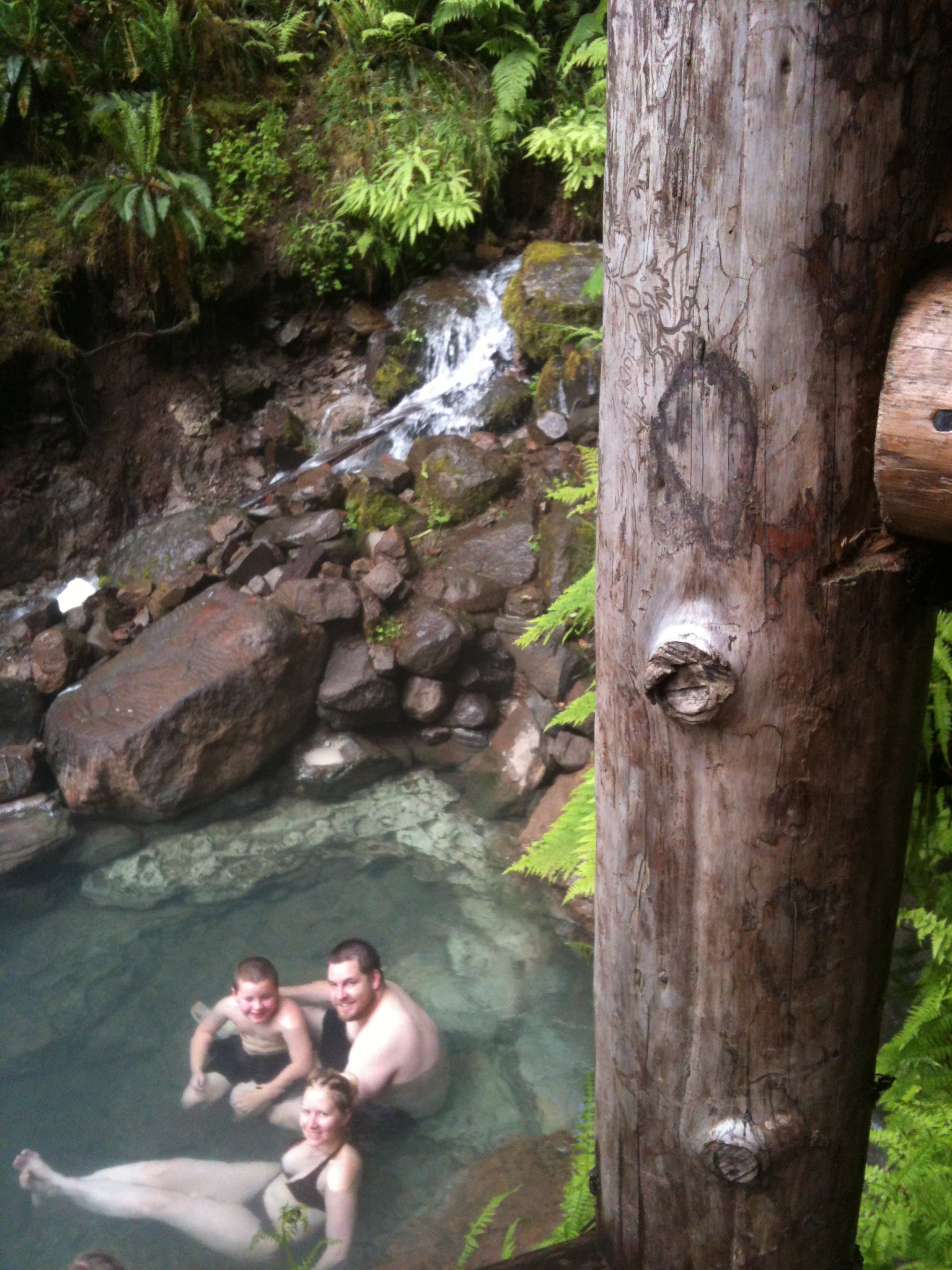 Location #9: Rainbow, Oregon. We are coming up on the most iconic, most fulfilling and unforgettable experience on the tour, maybe even in the world. Of course, I am talking about none other than a meal at Takodas. Ok, that might be an exaggeration, and no one's paying me to say that. But I just love coming to the town of Rainbow either before or after a long adventure whether it's for breakfast, lunch, pasta, pizza, prime rib and definitely a frosty beverage. This junction is also your last chance for gas before Sisters, still one hour away. For all you covered bridge buffs, and I imagine that is most of you, there is another one up ahead, Belknap Bridge. Just turn right past the gas station onto Mill Creek Rd and then right onto McKenzie River Drive. Crossing the river less than half a mile ahead, you'll see the fourth covered bridge that has been at this location since 1890. The current incarnation was erected in 1966 and has been on the National Register of Historic Places since 1979.
Location #10: McKenzie River Ranger District Office. On the right, our turnoff for the McKenzie River Ranger District Office serving the middle part of the Willamette National Forest up until you cross the Cascades into Deschutes County. On weekdays, and Saturdays between Memorial Day and Labor Day, they offer the most up-to-date reports to be found on weather, fire, snow, trail, and road conditions. They also have restrooms, a topographical map of the area, a gift store, permits and general visitor information that can assist with creating a well organized day of exploring.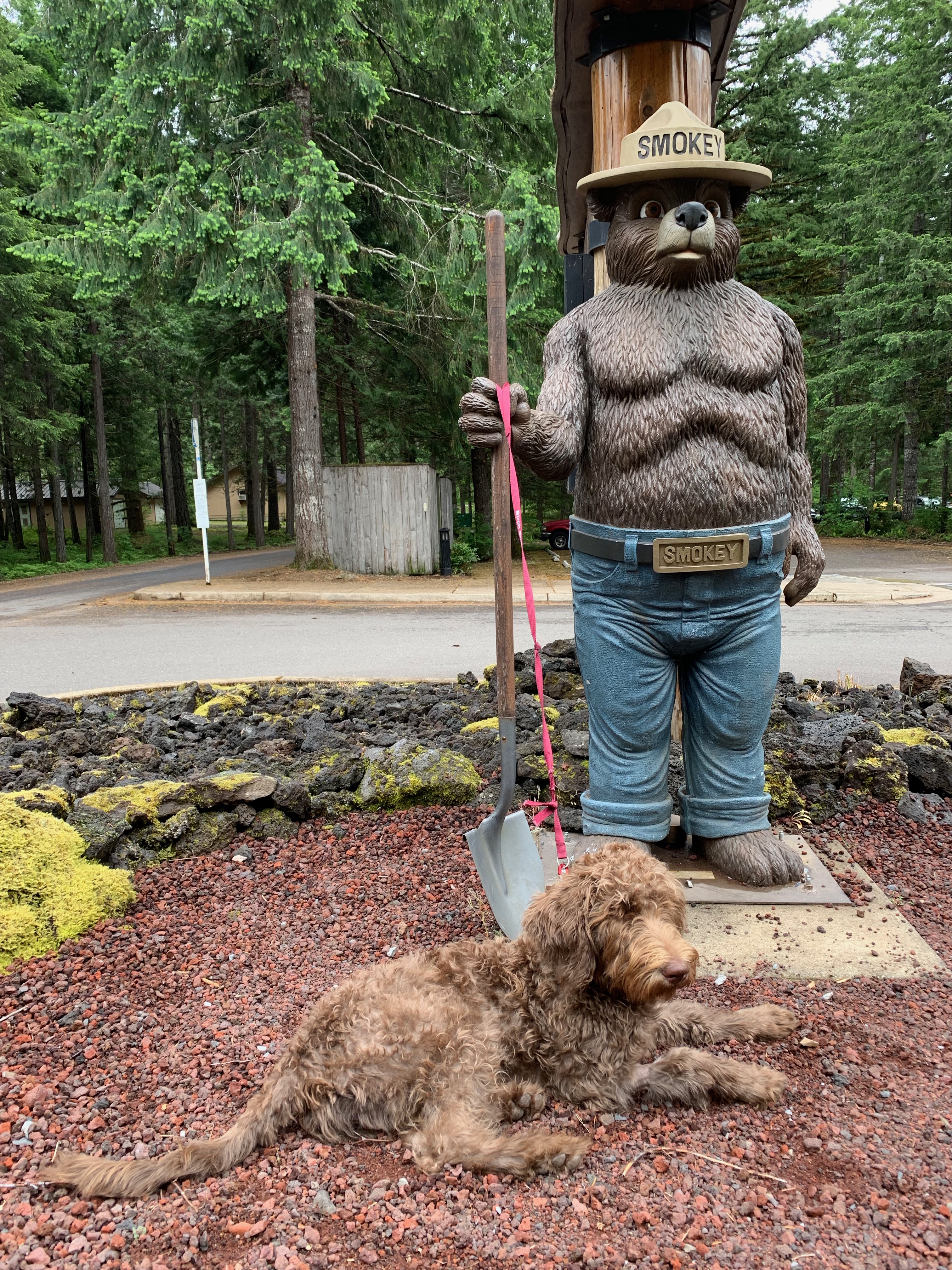 With Together Anywhere, you can experience a road trip like you never have before. Our GPS location based app tells you stories and places to visit that you may have missed before. We've spent years discovering, researching, and writing down the best information that make these areas worthwhile destinations, especially during this time of social distancing and staying close to home.
We hope you take the time to explore our app and learn more about your Oregon! Your adventure is ready with Together Anywhere.