Going back centuries, the Hood River Valley has meant many things to many people.
For millennia, the Wasco-Wishram tribes hunted, foraged, and camped in what was once a forested valley. The mid-1800s brought European-American emigrants to the region, where they began chopping down trees and planting the area's first fruit orchards. By the late 1800s and early 1900s, lumber mills were economic drivers in the Hood River Valley—and Columbia River Gorge tourism was just taking off.
It hasn't slowed down since. Today, the Hood River Valley is best known for its volcanic soils, mild climate, and growing conditions perfectly suited to apples, pears, berries, and numerous other crops—all of which can be explored along the Hood River Fruit Loop (also the subject of our latest audio tour).
So if you're interested in learning about the Fruit Loop just south of Hood River, here's a guide to what to do, where to eat, when to go, and more. Whenever you go, and whatever you do, just be sure to bring your appetite.
Before heading out, though, you'll want to keep a few things in mind: The official Hood River Fruit Loop website offers a map (also available in printed form at stops along the route), a list of participating businesses, growing season schedules, and other helpful information. Also note that many farms host working animals and may not be pet-friendly; if traveling with your dog, look up your preferred destinations before leaving.
What is the Hood River Fruit Loop?
The Hood River Fruit Loop officially formed in 1992 and today is a 35-mile, self-guided tour route that (naturally) loops through the Hood River Valley. It begins in Hood River, heads south toward the community of Parkdale at the base of Mount Hood, and returns north via a second highway—thus completing the loop. (We'll get to those specific highways in the next section.) Without stops, you can drive the entire route in about an hour.
But to drive the loop without stopping is to deprive yourself of its sublime pleasures.
In all, roughly two dozen stops sit along the Fruit Loop, each offering the chance to enjoy the region's agricultural bounty in one form or another: picking and eating fresh produce at U-pick farms, perusing locally run markets for artisan food items (from jams and jellies to salsa and even scone mix), snacking on baked goods, sipping wines from local vintners, and more. As growing season kicks into gear (more on that later), several U-pick farms invite visitors to pick a wide range of crops—berries, apples, pumpkins, lavender, and more.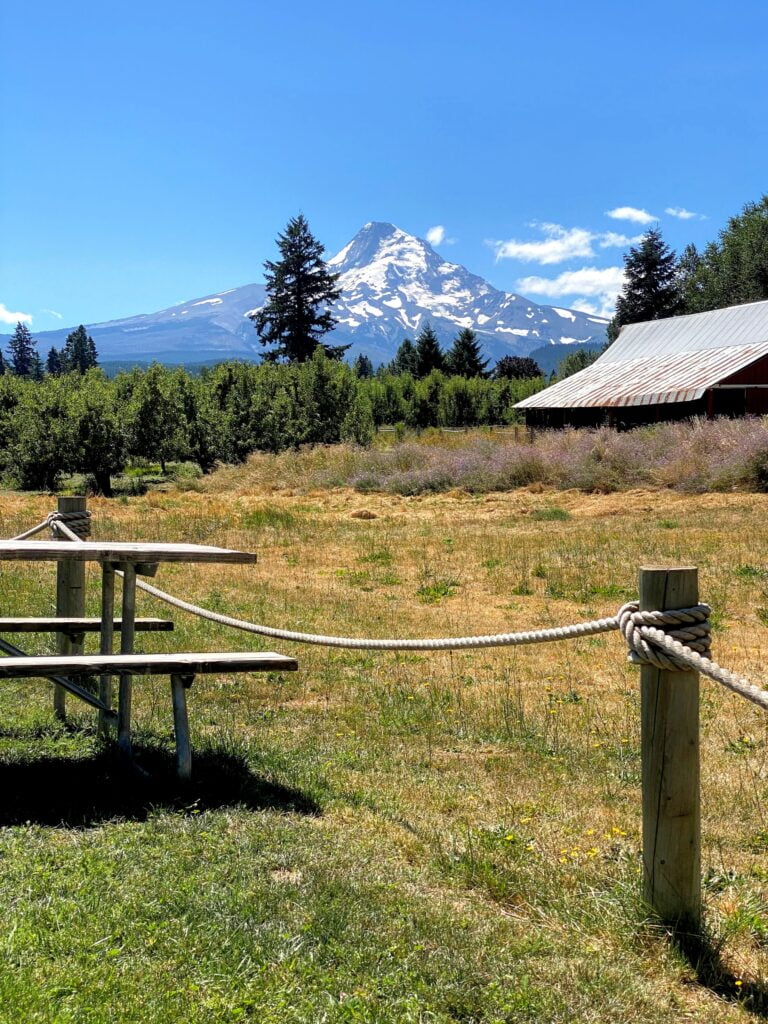 Where is the Hood River Fruit Loop?
The Fruit Loop sits in the heart of the Hood River Valley. It's bordered by the city of Hood River and the Columbia River to the north, the forested foothills of Mount Hood to the south, the crest of the Cascades to the west, and an unnamed ridgeline to the east.
As far as roads go, you'll typically follow two highways through the majority of the loop, with occasional turnoffs onto side roads. Highway 35 runs north-south through the eastern edge of the Hood River Valley, while Oregon Route 281 runs north-south through the western edge of the valley.
Hood River is undoubtedly the biggest city you'll encounter on the loop—it's where you'll find most of the region's lodgings, restaurants, and biggest attractions—but a few notable communities stand out along the way. They are:
Odell: The community of Odell sits in the heart of the Hood River Valley—and is home to a large portion of the region's Latinx population. Here you'll find a pair of excellent eateries (including Taqueria Los Amigos and Michoacán Grill) and Carniceria y Verdureria La Mexicana—a convenience store, butcher shop, and meat market that's best known for its fresh chorizo and homemade salsa.
Parkdale: Sitting at the southern edge of the Fruit Loop, the community of Parkdale is home to a handful of fun stops—including Solera Brewery (whose back patio affords dramatic views of Mount Hood), Apple Valley BBQ (noted for tender, slow-cooked meats and perhaps best known for its homemade pear coleslaw—a house specialty), and the Hutson Museum (open April-October and hosting a wide range of historic artifacts).
Mount Hood: Use your mobile map app for any amount of time while on the Hood River Fruit Loop, and chances are good you'll see a fair number of businesses claiming to be located in "Mount Hood"—not to be confused with Oregon's tallest peak, which is also Mount Hood—and which is located just a few miles south of the Hood River Valley. So what gives? Long story short: There is an unincorporated community in the Hood River Valley called—you guessed it—Mount Hood. That said, the township is little more than a few buildings, none of which you'll stop at on the loop. So even if your map app sends you to Mount Hood, don't worry; you're still on the right track.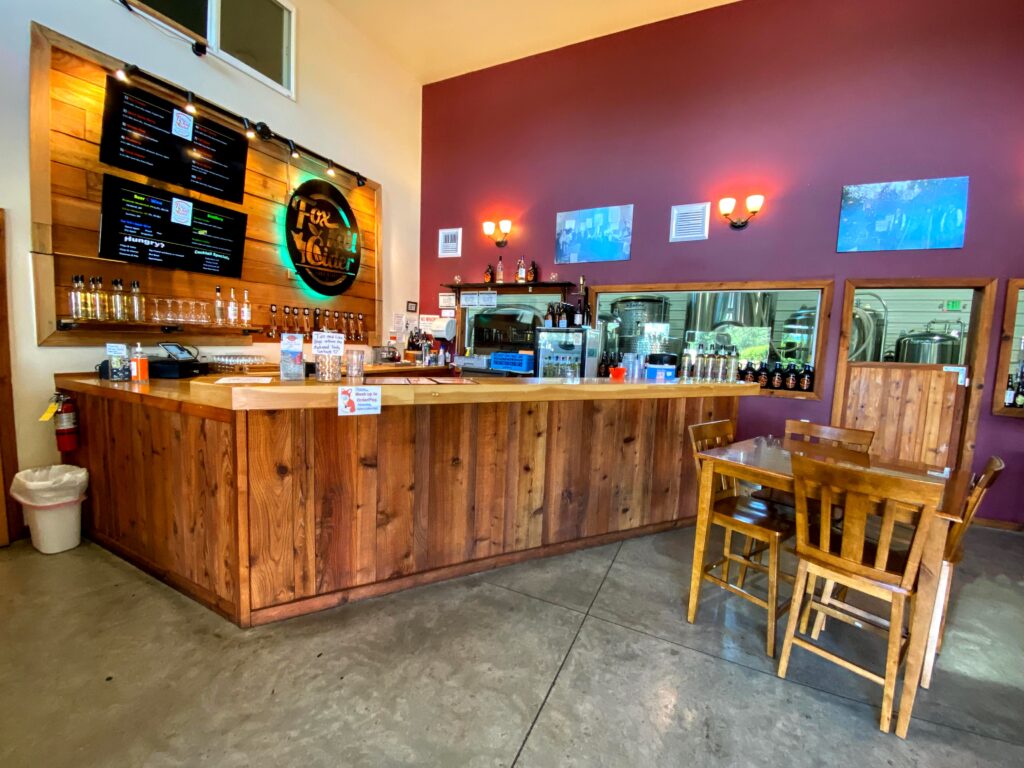 What is There To Do Along the Hood River Fruit Loop?
You could spend weeks along the Hood River Fruit Loop without seeing it all. So here are just a few of our favorite activities.
U-pick Farms: Each summer, U-pick farms give visitors the chance to pluck a variety of crops—from flowers and berries to apples and pears. When you arrive at the farm of your choice, just find the check-in spot to receive tips on what's ripe, information for where to go, and a bucket or bin to drop your items into. Whether you're picking a pound of berries to enjoy on your ride home or are grabbing apples for wintertime pie-baking, you'll find plenty of yummy goodies to enjoy.
Fresh Eats: Several stops host restaurants and eateries that dish fresh fare—sometimes using ingredients grown on that very farm. The food cart at The Gorge White House, for instance, serves a quesadilla using farm-grown pears and a flatbread topped with hand-picked cherries. And the Bakery at Packer Orchards sells a wide range of baked goods, some using orchard-grown sweet pears, along with homemade jams, ice cream, and other sweet treats. Whatever you eat, save room for the iconic huckleberry milkshakes at the Apple Valley Country Store.
Sip Stops: You'll find plenty of stops along the Fruit Loop to enjoy locally crafted wines, ciders, and even beer. Wine aficionados can choose among nine producers; Mt. Hood Winery pours several varietals in a cathedral-like tasting room that affords dramatic views of its namesake peak, for instance, while Stave & Stone Winery at the Vineyard pairs its award-winning wines with views of Mt. Adams to the north. Elsewhere, Fox-Tail Cider & Distillery pours regionally sourced ciders, fruit wines, and distilled spirits—and Draper Girls' Country Farm has been crafting hard cider using farm-grown ingredients since 2011. And Grateful Vineyard does a bit of everything, producing its own wine, hard cider, and even beer in the shadow of Mount Hood near the Fruit Loop's southern edge.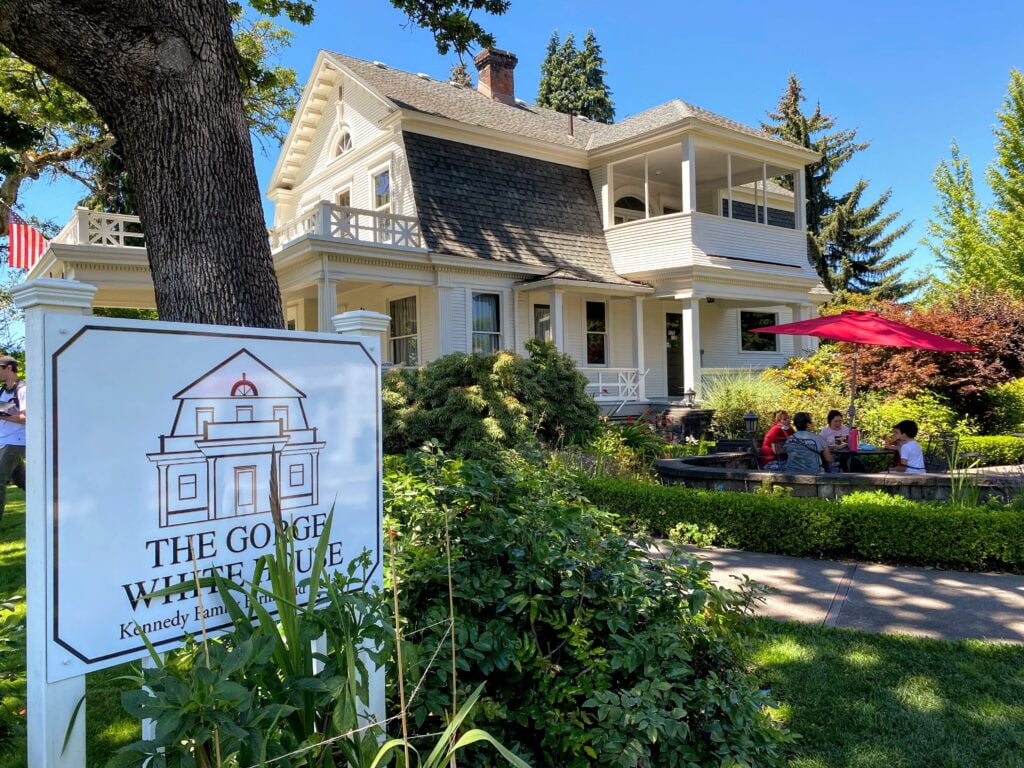 When Should You Visit the Hood River Fruit Loop?
Some businesses along the Hood River Fruit Loop remain open all year long, but we'd recommend timing your visit to spring, summer, or fall. (Nothing's growing in winter, and the few businesses that remain open year-round do so with limited hours and, occasionally, scaled-back offerings.)
What's the benefit of visiting in each season, and what's there to do throughout the year? We're glad you asked. Here's a breakdown of what it's like to visit the Fruit Loop throughout the year.
Spring: Apple, pear, and cherry trees blossom between late March and mid-May, covering the region in colorful blooms. Spring also makes a fine time to visit The Gorge White House—which makes its own wine, crafts its own cider (often from farm-grown ingredients), and hosts a food cart dishing fresh fare; the farm hosts U-pick berries and other crops later in summer, but in spring (when little else has ripened), visitors can cut their own peonies and other flowers from an on-site garden. Elsewhere, visitors can also try the newest vintages from wineries along the Fruit Loop, usually while enjoying scenic views of a snow-capped Mount Hood on clear, sunny days.
Summer: The height of summer brings the height of U-pick season to the Hood River Valley. Cut your own lavender bouquet at Lavender Valley Farms; pick raspberries, Rainier cherries, and four varieties of blueberries at Montavons Berries; and fill your basket with zucchinis, cucumbers, organic cherries, and pre-picked heirloom tomatoes at Hood River U-Pick Organic.
Fall: Autumn brings harvest season, making it a popular time to visit apple orchards and pumpkin patches throughout the Fruit Loop. Kiyokawa Family Orchards operates a farm stand and U-pick operation between late August and Halloween, with more than 150 varieties of apples, pears, cherries, and stone fruit available; the family-run farm boasts the largest U-pick orchard in the Hood River Valley. Packer Orchards, meanwhile, hosts a fall festival that brings the season's highlights together for one grandiose event; attractions include a U-pick pumpkin patch, a children's play area, a corn maze, pumpkin bowling, and other family-friendly highlights.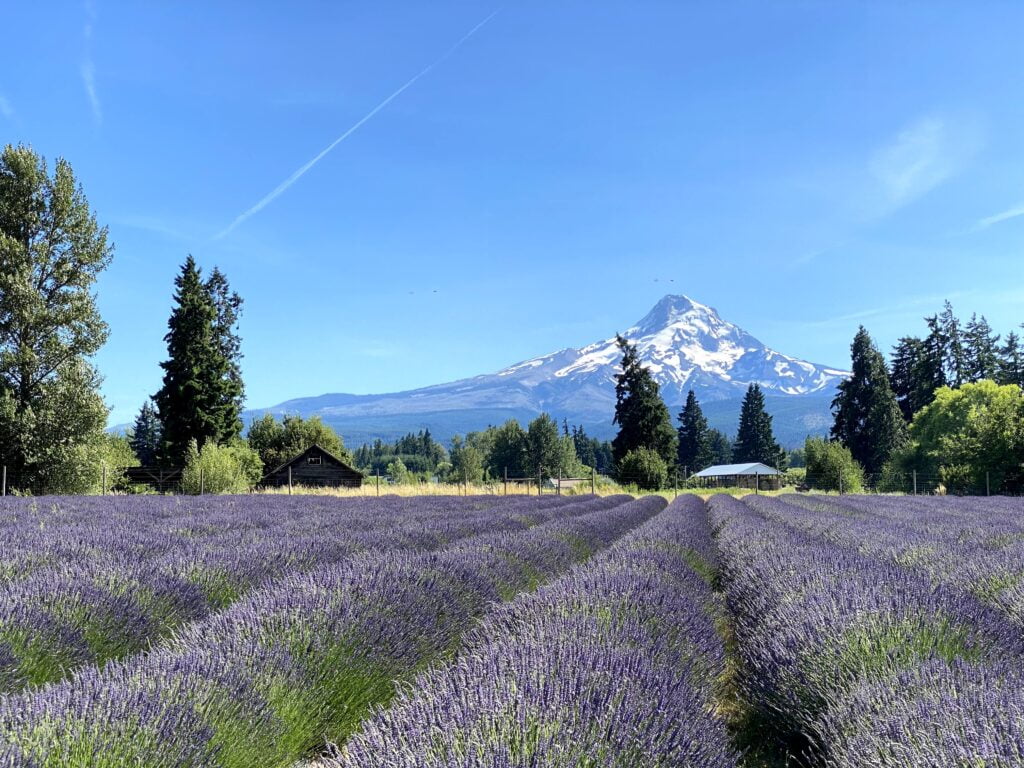 What's in Season Along the Hood River Fruit Loop—and When?
One of the fun things about the Hood River Fruit Loop is that no two visits are ever alike; a mid-spring visit will offer a dramatically different experience than a late-summer excursion, with different crops available in restaurants and on U-pick farms. So here's a look at what's in-season—and when—along the Fruit Loop.
May: Strawberries are the first crop to get harvested each season; the first U-pick opportunities appear in late May or early June and generally wrap up by the first week of July. Lavender begins to bloom in May and will hit its peak in late June and July.
June: The heart of harvest approaches, with cherries (generally available June-early August) and flowers (such as peonies) available at several U-pick farms. The season's first blueberries, raspberries, and blackberries can ripen by the end of June and remain a staple through the end of August.
July: You'll find a wide range of crops this month, including tomatoes (available through August), peppers (available through August), plums (available through September), and the season's first peaches (which remain popular through the end of August).
August: The height of summer brings apricots, the season's first apples (which remain a popular U-pick item in September and October), and nectarines (available through September). You'll also find the season's first pears and apples—both signature fruits along the Hood River Fruit Loop—in mid- to late August.
September: Most of what's growing for the season has been harvested (or will continue to be harvested through September), save for a few seasonal offerings: pumpkins, gourds, and chestnuts.
Interested in joining us for a tour of the Hood River Fruit Loop? Download the Together Anywhere app today for a guided audio tour through the region's past and present—with tips for making the most of your time along the way.