It sounds unbelievable, but it's true: No two visits to the Hood River Fruit Loop are ever quite alike. A visit in early spring might showcase colorful fruit blossoms, while a return visit in summer yields the height of harvest season—with juicy berries, plump cherries, and other items ripe for the picking. By fall, a quiet calm has fallen over most of the valley as another growing season winds down—unless you're attending a harvest festival or visiting a pumpkin patch, in which case the squeals of delighted children waft through the air.
There is truly no bad time to visit the Hood River Valley—although we'd recommend against a wintertime outing, since most markets and farm stands are shut for the season or offer scaled-back services—and each season brings something unique to the Fruit Loop. So as you plan your next trip (and after you download our audio tour of the Fruit Loop!), we've put together a guide on what to do in spring, summer, and fall along the Hood River Fruit Loop. Here's how to make the most of your next experience.
And if you need a primer, we've put together a blog post on five things to know about the Fruit Loop, complete with ideas for what to do, which crops you'll find along the way, and where to eat.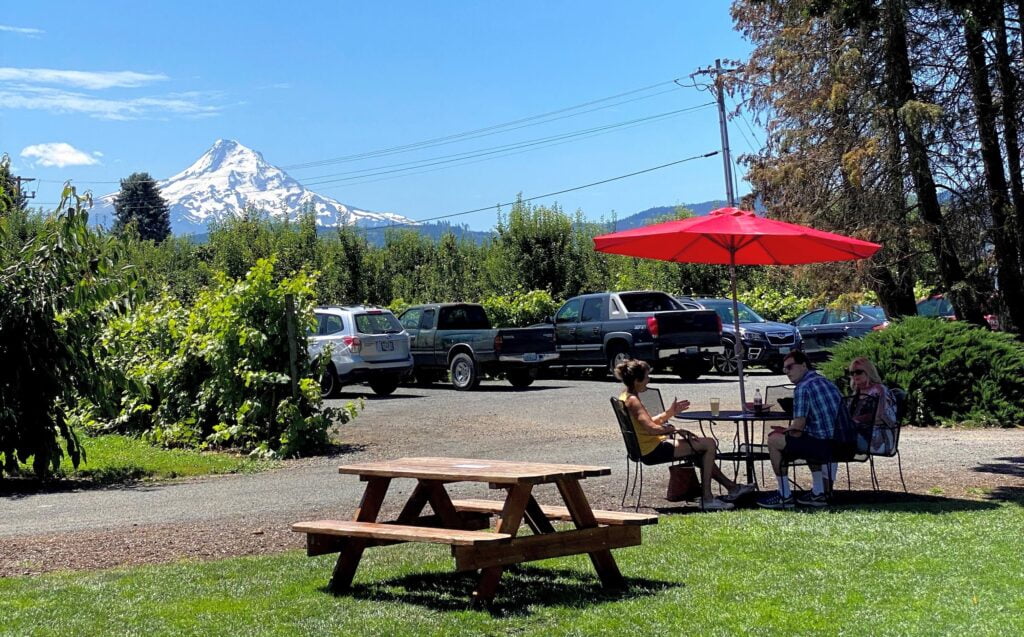 Spring along the Hood River Fruit Loop
Spring brings fruit tree blossoms to the Hood River Valley—specifically, apple and pear blossoms. As the surest sign that growing season is underway, the pink and white blossoms positively cover the Hood River Fruit Loop, adding a pop of color to even the grayest of spring days. The first blossoms usually appear in late March, peak around mid-April, and remain a dazzling sight well into May. (When planning your visit, check current conditions by reaching out to the Hood River County Chamber of Commerce.)

By mid-May, the season's first U-pick opportunities arrive; cut some fresh peonies for your vase back home at The Gorge White House. And if you'd like to sample the season's first vintages, cozy up with a glass at one of the Fruit Loop's nine wineries—including Wy'east Vineyards (a family-owned winery that pairs a spacious patio with dramatic views of Mount Hood) and Marchesi Vineyards (specializing in Italian grape varietals at the northern edge of the Hood River Valley).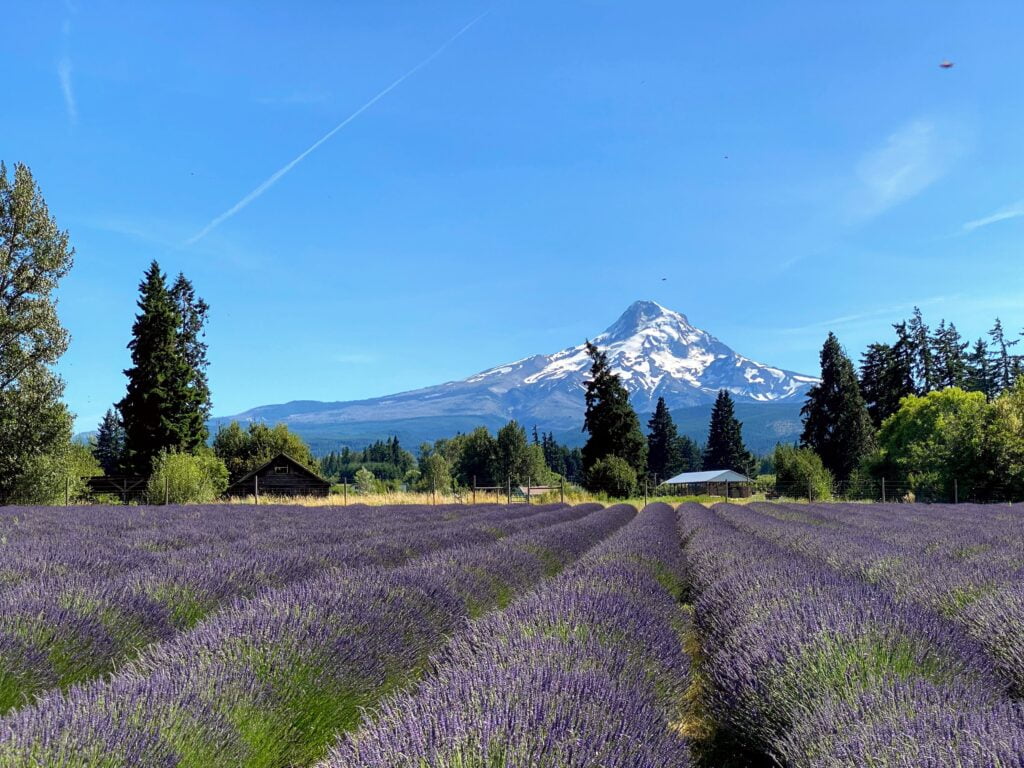 Summer along the Hood River Fruit Loop
It's hard to go wrong with summer along the Hood River Fruit Loop: Sun-drenched afternoons give way to cool, crisp evenings; countless patios invite long stretches of lingering; and the highest number of crops are at their growing-season peak.
If you're looking for fresh produce, whether to snack on while exploring or for larger culinary projects back home, you're in luck: More than a dozen crops can be plucked at U-pick farms and purchased at markets and farm stands around the Hood River Valley. The lineup ranges from the season's first cherries and raspberries in June to tomatoes, pears, and apples in August and September. Other locally grown summertime crops include peaches, apricots, and tomatoes.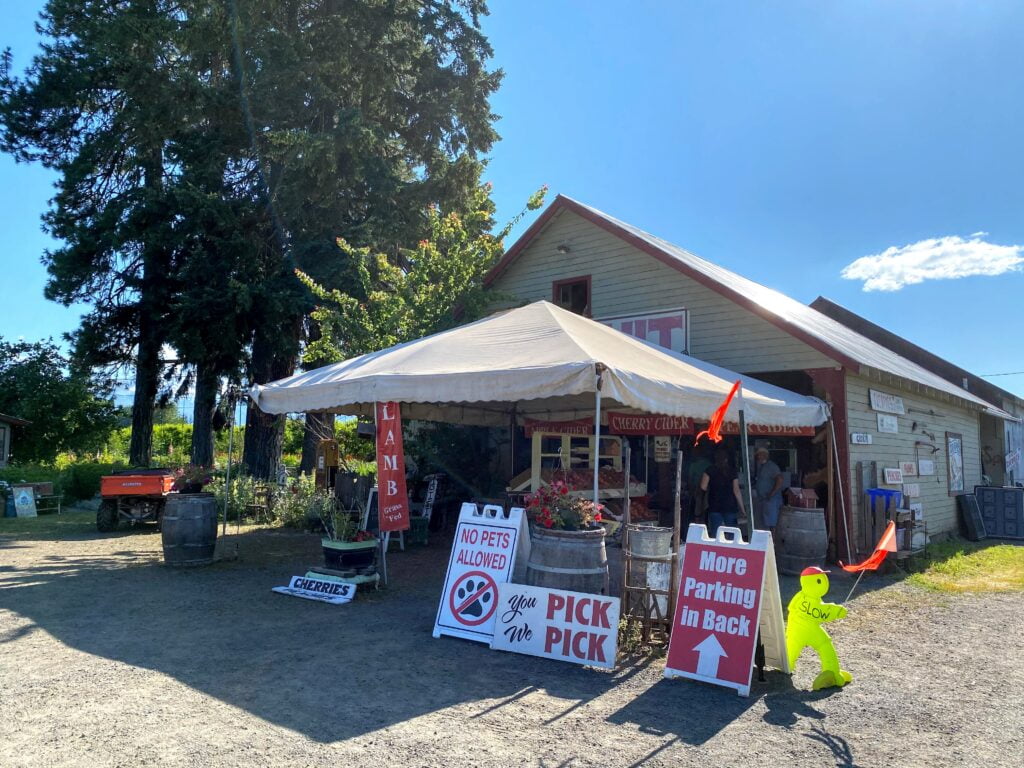 ​​Draper Girls Country Farm is a third-generation family farm and offers a variety of U-pick opportunities all season long—including strawberries, cherries, peaches, and nectarines. (By fall, the U-pick farm boasts more than 50 varieties of apples and pears.) Hood River U-Pick Organic, meanwhile, is a certified organic farm that offers three varieties of cherries and two varieties of apple in early summer and again in late summer. (The farm closes after cherry season in July before reopening in mid-September.)
You also won't want to miss the dazzling displays at the Hood River Fruit Loop's two lavender farms: Lavender Valley and Hood River Lavender Farms both grow the pungent crop and offer farm-grown products for sale. (Just a friendly warning: Bees love lavender!)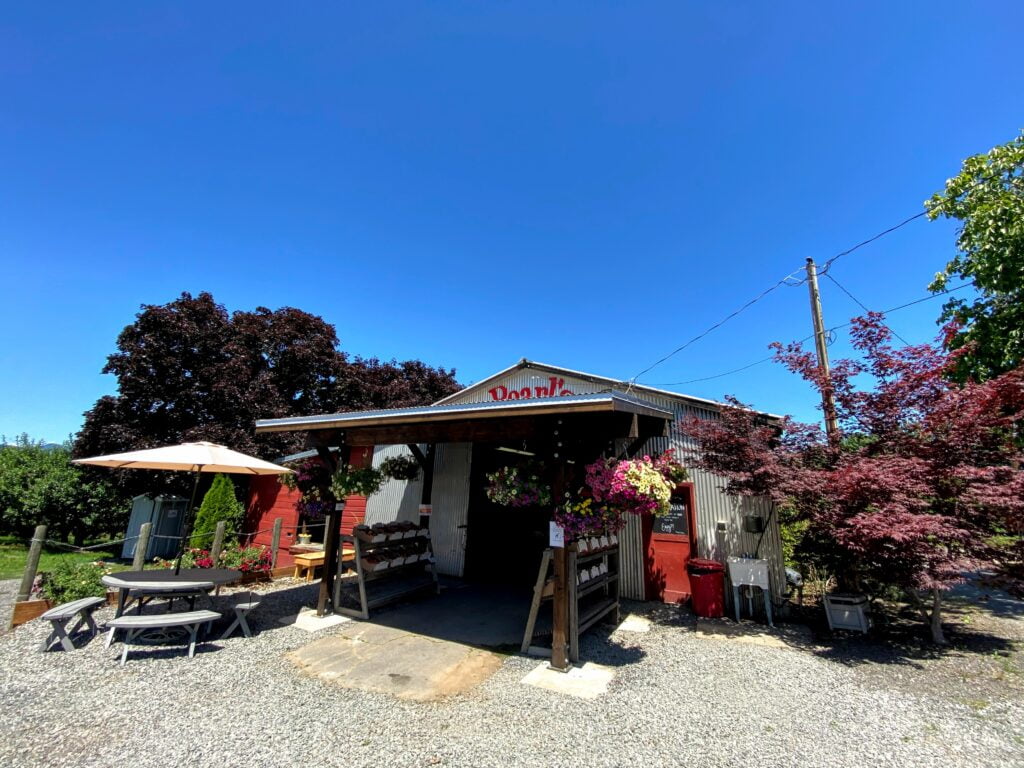 Fall along the Hood River Fruit Loop
As children return to school and the weather turns cool, growing season in the Hood River Valley begins to wind down. By October, you'll find apples, chestnuts, pumpkins, and gourds available throughout the region, with U-pick opportunities available at the likes of Kiyokawa Family Orchards (which offers more than 150 varieties of apples, pears, cherries, and stone fruit) and a popular pumpkin patch at Packer Orchards Farm Place (which hosts a seasonal harvest festival that's popular with families).
Mt View Orchards also hosts U-pick opportunities, with roughly a dozen varieties of apple available—and a farm stand with pre-picked pears, plums, and apples; unwind at the orchards' Grateful Vineyard tasting room, which produces its own beer, wine, and hard cider.
Of course, fall also means colorful foliage, with vibrant leaves of red, yellow, and orange appearing in late September and remaining through early November.
And if you want to grab some goodies at the Fruit Loop's markets, you have plenty of stops to choose from; the locally sourced huckleberry milkshakes at Apple Valley Country Store & Bakery are always in-season, while Pearl's Place Fruit Stand offers a taste of the region by selling a mix of fresh fruit, locally crafted snacks (such as chocolate and granola), honey, Oregon-grown hazelnuts, and more.
While you're traveling from stop to stop, we'd love for you to download our audio guide to the Hood River Fruit Loop for history of the Hood River Valley, tips on where to go, and other fun details.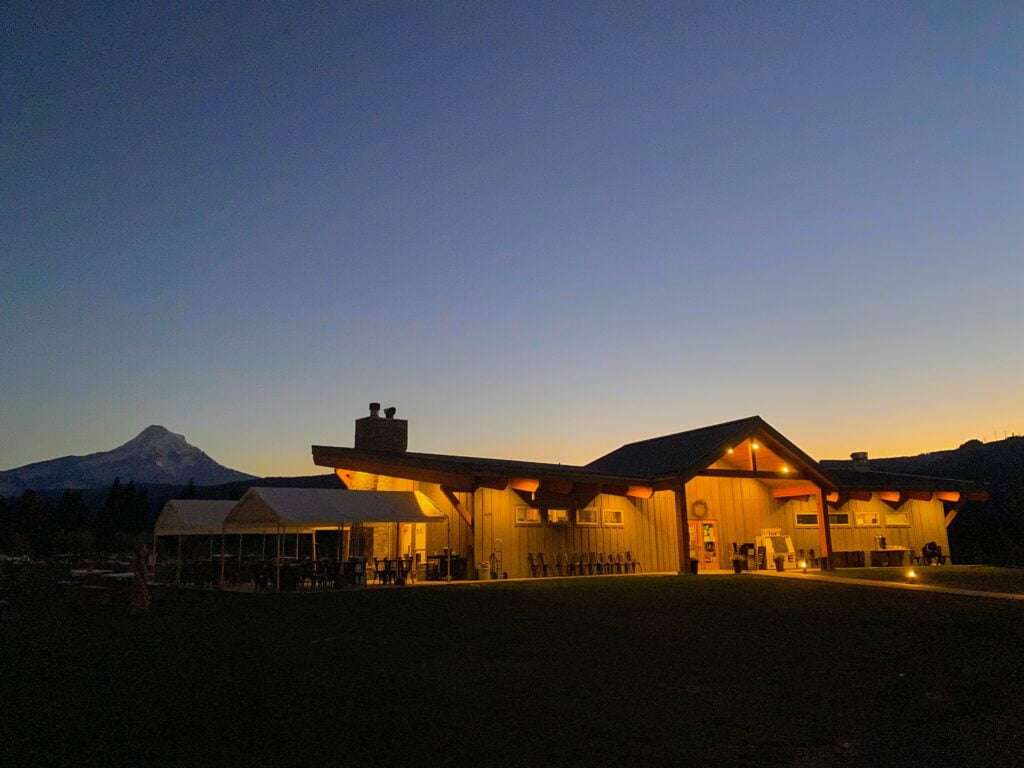 Drop us a line and let us know what you would like to hear about next time. Happy adventuring and take us along with you next time by just downloading the app!
Where you can find our tours: