One of the most special drives in Oregon has to be the approach to Mount Hood. This drive provides the traveler with an experience of the best parts of this state we love: old growth forests, waterfalls, dramatic mountain views, and volcanic topography. And then there is the hiking… and biking… and stories! Did you know the Oregon Trail came right through here? And that it is one of the oldest tour routes in the state? This post only covers 20 miles of the modern day journey. I will be back for more later.
This post is a follow up to my previous post about Highway 26, ending at Wildwood Recreation Site.
You can also enjoy this as an audio tour and, while you are at it, maybe experience it via car-free travel offered by Mount Hood Express!
Villages of Mount Hood
I start this tour of Highway 26 heading east from Wildwood Recreation Site (about 15 minutes east of Sandy). As you travel east, many other possible side trips are coming up so if you need to stay a little longer in the area and take your time exploring them all, Mount Hood Village, Wemme and Welches are full of everything a person needs to kick back for a while. The first resort was established in this area in 1893 by Samuel Welch and his son Billy. A nine hole golf course was added to the already existing vacation destination in 1928, making Mt. Hood Oregon Resort the oldest golf resort in the state.
Salmon River Trail & Ramona Falls
Just past the Barlow Trail Roadhouse in Welches, you can take a right on East Salmon River Road to reach the Salmon River Trailhead, a popular easy trail for hikers of all ages. On the opposite side of the road, Lolo Pass Road heads north up the Sandy River and is the entryway to an array of camping and trailheads. The favorite Ramona Falls trailhead is up this road. This seasonal trail is 7 miles out and back and requires the hiker to cross the Sandy River. Please stop at Zigzag Ranger Station to get more information about this trail if you are in search of wildflower meadows, and the geologic wonders of glacial rivers and volcanic debris. Zigzag Ranger station is the ultimate source for all information about roads and trails in this area. They are open daily in the summer and weekdays from November through May.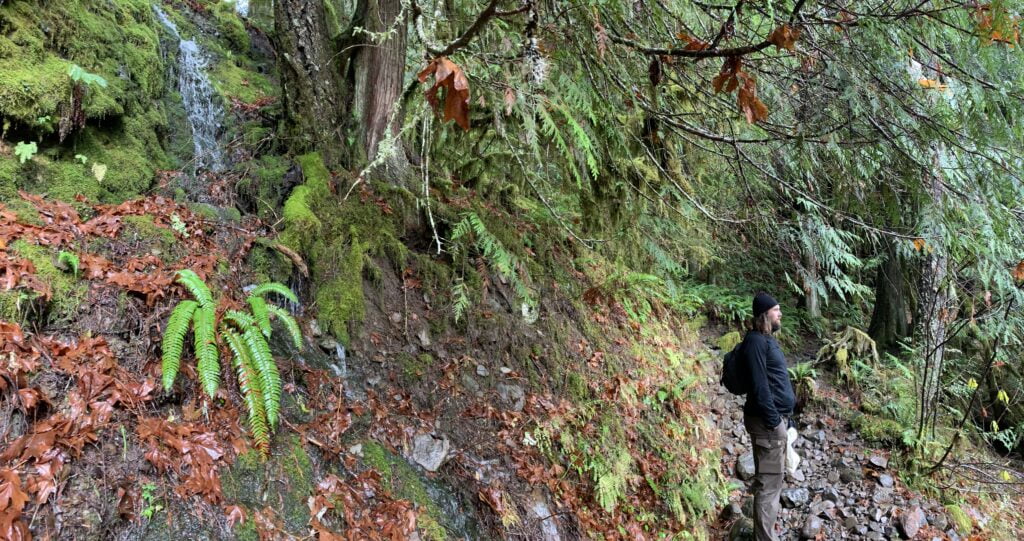 Live music at Skyway
No one's paying me to say this, but I just love stopping at the Skyway Bar & Grill just on the left past the Zigzag Ranger Station. They serve Northwest-style BBQ in a beautiful forest setting. Their funky outdoor porch is amazing for summertime chillin, and in the winter the indoor fire and eclectic interior make it easy to stay awhile. Year round, the Skyway is the hottest spot in the area for live music. Try the truffle grit cake and you can thank me later.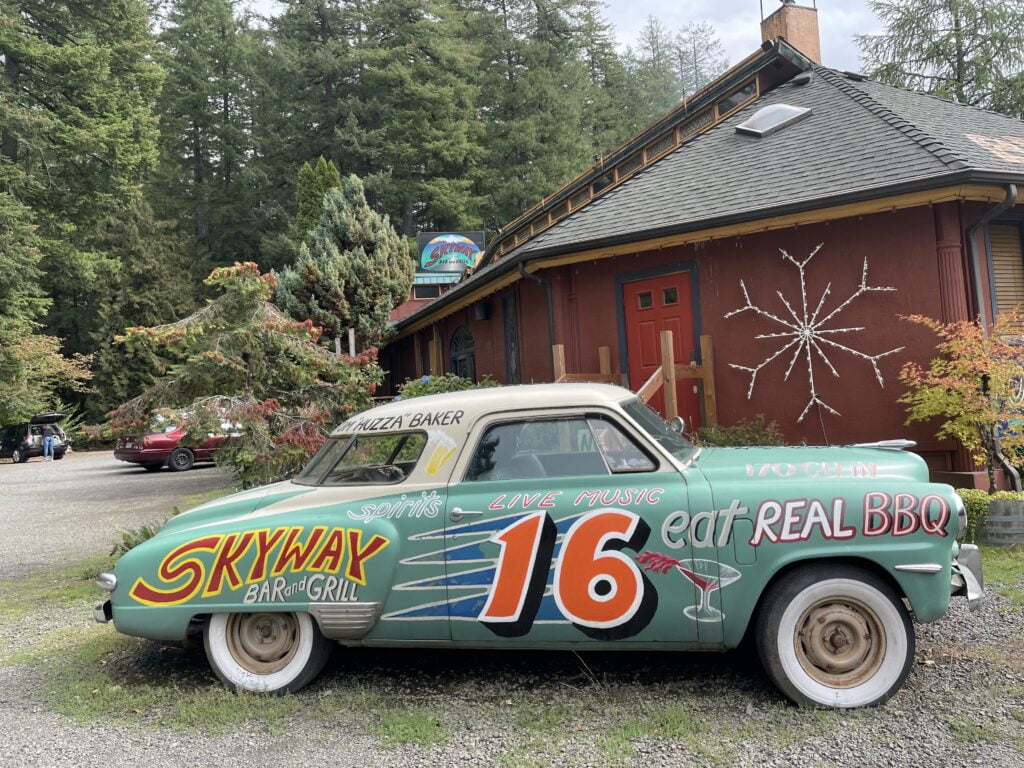 Rhododendron
The village of Rhododendron is settled on the confluence of multiple small creeks all joining the Zigzag River before it runs into the Sandy River. This spot was determined to be the perfect location for a summer resort colony in the early 1900s. When skiing was popularized in the 1920s, it became a year round settlement mainly because it sits at a much lower elevation than Government Camp, just a 15 minute drive ahead. Rhododendron only receives about 20% of the snowfall amounts of Government Camp…but of course, in wet Oregon, that means a lot of rain. Lots of rain means there is green everywhere. Rhododendron, or Rhody for short, eventually became the town's name because of the abundance of the native flower found in the Mount Hood National Forest.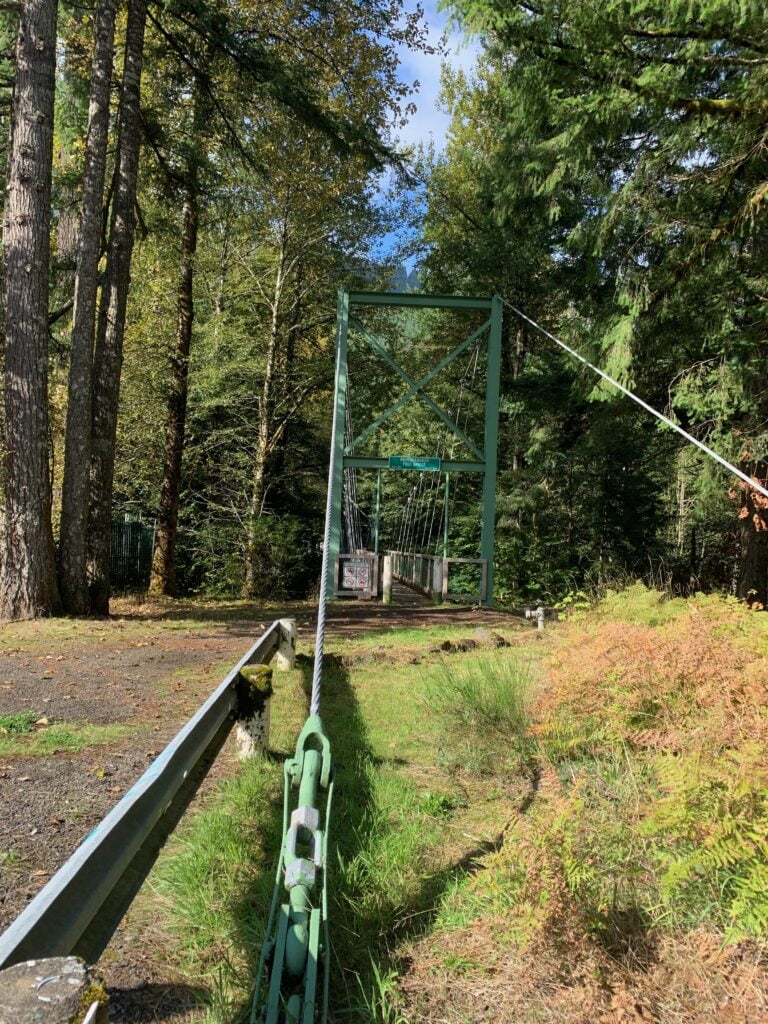 Early pioneers on the Oregon Trail
Laurel Hill, a historic landmark ahead, was actually mis-named by early pioneers when they thought they were crossing through laurels when actually they were passing rhodies. There are some great stories about their journeys and the landmarks ahead near Tollgate Campground and Pioneer Bridle Trailhead that are highlighted on my westbound audio tour of Mount Hood.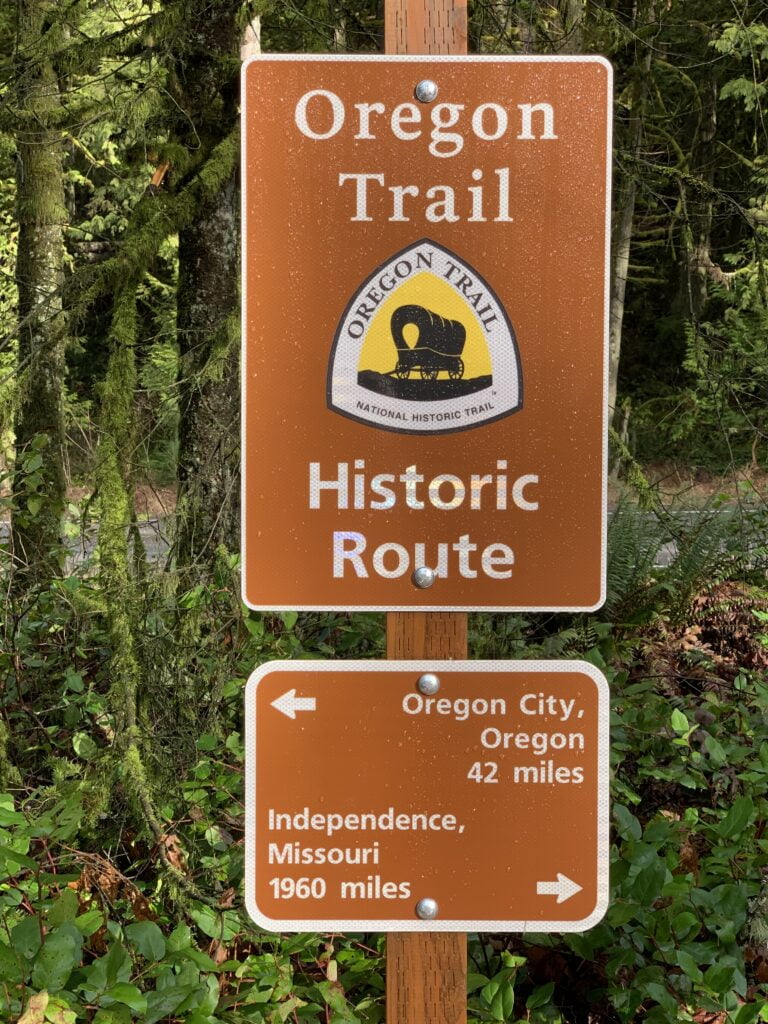 Flora in Mount Hood National Forest
Next, I want to talk more about rain and all the colors it creates here. Does anyone know what the state tree is? Of course it is the one that is everywhere around us, the Douglas fir. Do you also know that a single fir tree can hold over 1,000 gallons of water on the surface of its needles? That is roughly the amount of water in 13 full bathtubs! Imagine the root system that holds it in place and the force with which it falls when holding all that water. The Douglas fir loves the rain, as does the western red cedar tree, western hemlock, noble fir, and leaf shedding trees like big leaf maple, vine maple, alders, and cottonwoods.
Lower to the forest floor, you find the rhododendrons, ferns, salmonberries, salal, lichens, and the sought after wild huckleberry. The Native American people of this area had many uses for the latter and it is ripe for picking around August and September. Beargrass, Indian paintbrush, lupines and other wildflowers decorate upper meadows in early summer. Is it the right time of year to go explore? That is for you to decide, I just hope I'm making you curious!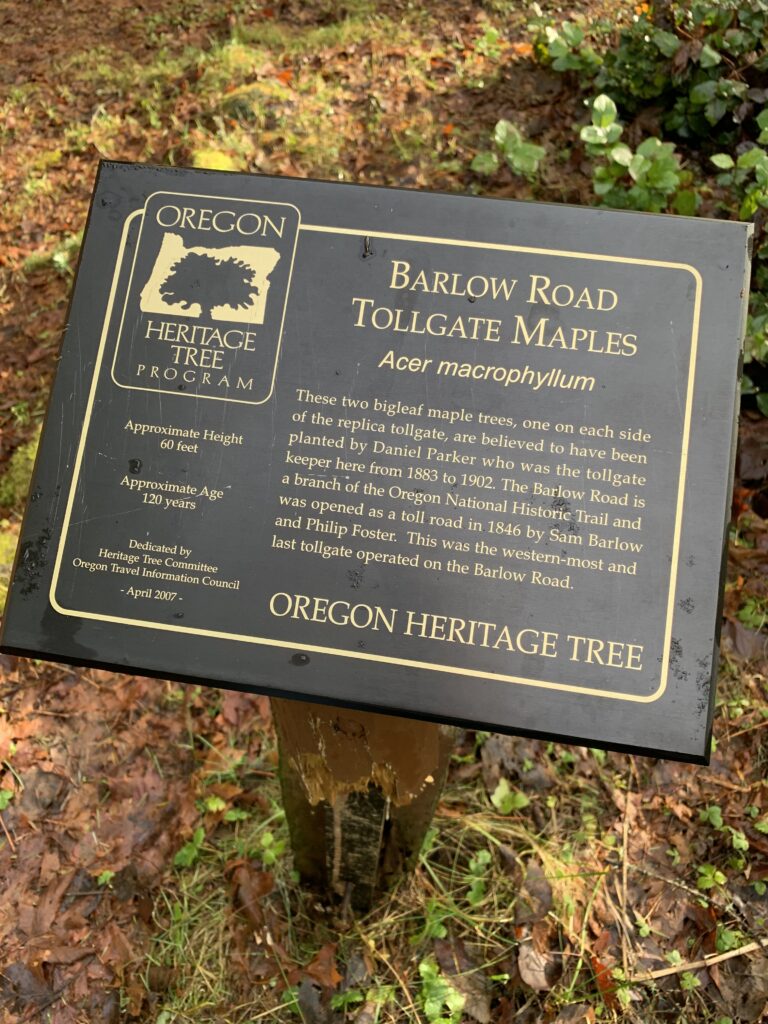 Little Zigzag Falls
There is a left turn for Little Zigzag Falls just at the sign for Mt Hood Kiwanis Camp. If you are stopping, make sure to have that recreation pass in the car. This hike is short, sweet and very family friendly. A definite stop if you have 45-60 minutes to spare.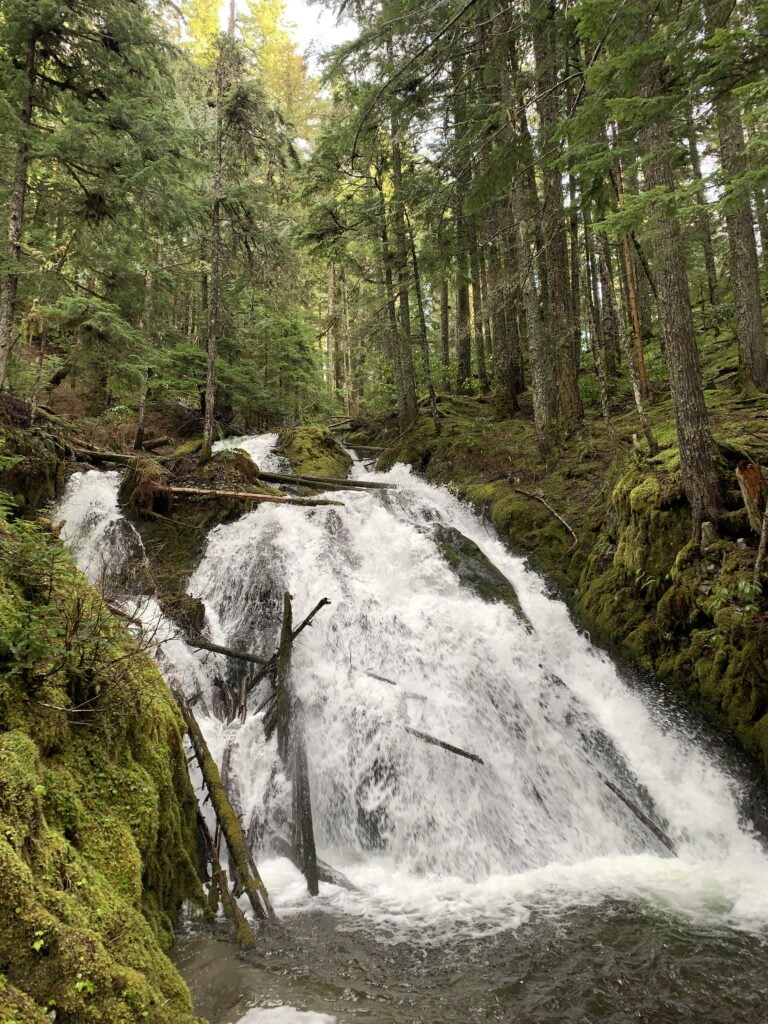 Silent Rock
Just after the turn for the falls, you quickly approach what was considered the most difficult stretch of the 2,000 mile Oregon Trail, traveled by tens of thousands of pioneers in the 1800s. As the road hugs the mountain on its left and opens into a canyon on the right, pay close attention and you might just spot a large rock mound on the right just as the road starts to veer left. It's going to seem a bit unremarkable unless you believe in its powers. Frequenters of Mount Hood suggest you respect the area known as Silent Rock. Local legend says that if you make a noise through this spot, something bad will surely happen.
It is fun to explore the origins of the Silent Rock legend. Some stories say it was a Native American burial ground, others say it came from an angry school bus driver trying to scare kids on the bus into being quiet. Do you know the real truth or other remarkable Mound Hood stories? Well get ready! The most remarkable story we do know to be true is that of Laurel Hill and the Oregon Trail settlers.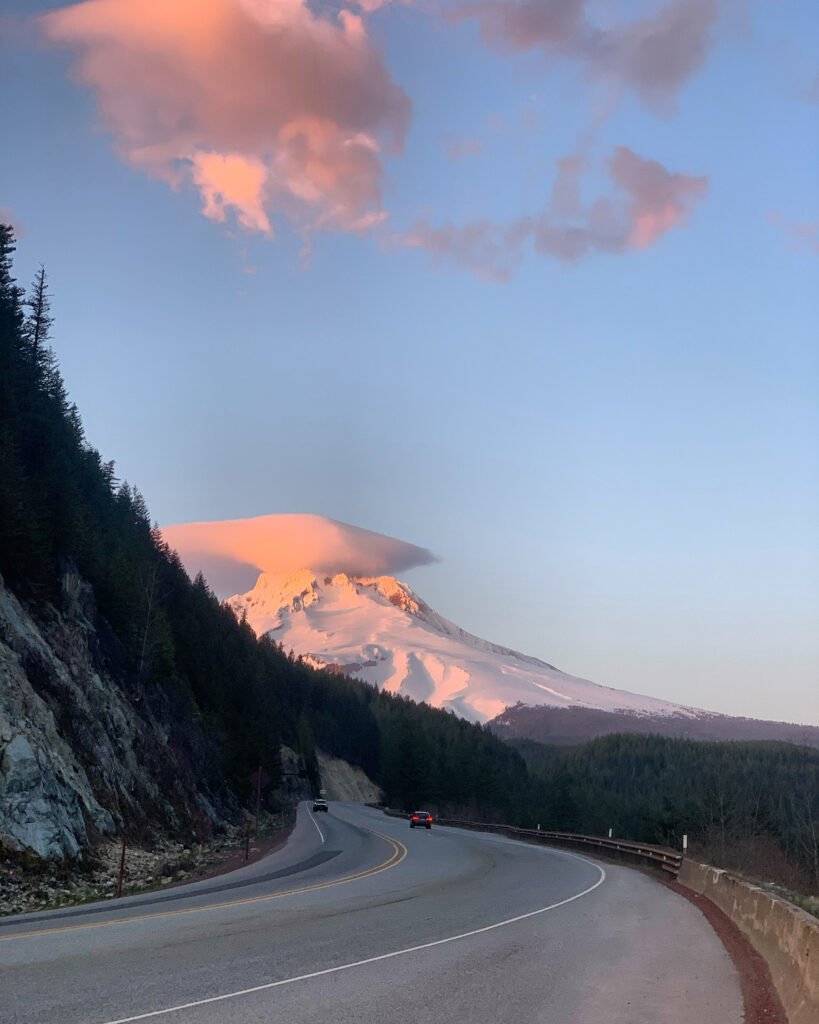 Laurel Hill
At Laurel Hill, thousands of settlers had to figure out ways to lower their wagons down extremely treacherous 60 percent grades, with ruts so deep that people, or entire wagons, could fall into them. Pioneers inched the wagons down with ropes around large trees and even tied entire trees behind their wagons increasing drag to counteract the downwards pull and slowing down the descent.
It is said that you can still see the rope marks on the trees at the top of these wagon chutes but I have yet to find one. Because of the divided highway, the only opportunity to stop at the historical marker ahead is when heading east. By stopping at the marker, you can read a bit about the Barlow Road and after walking up a short, stone staircase, you can stand on part of the original Mount Hood Loop Highway and view one of the steep chutes and appreciate our modern day travel options. There is a loop trail to get to the top of the chute, or, if adventure strikes, keep following the old highway to discover some more hidden treasures.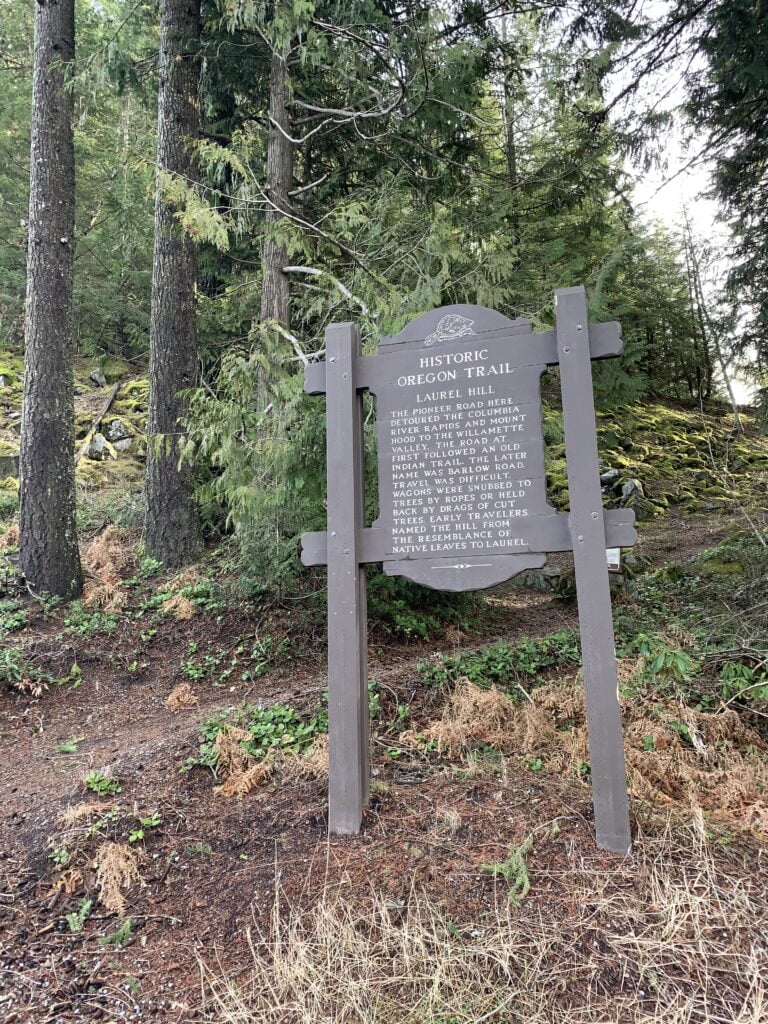 Skiing and views of Mount Hood
The popular Mirror Lake trailhead is just before Government Camp at the same turnoff to Mount Hood Skibowl West. This moderate 4 mile roundtrip hike takes you to a glacially formed lake. Walk half a mile more to complete the loop around the lake, or, you can hike another steep 2 miles up to the playfully named Tom Dick and Harry Mountain. Named for its three distinct peaks, this volcanic ridge provides mountain views that extend well into Washington and Central Oregon on a clear day.
When combined with Skibowl East, there are nearly 70 runs, and over 30 lit night runs, making it the largest night skiing and snowboarding area in the United States. There is also Cosmic Tubing under LEDs, laser lights, black lights, and a party every Friday, Saturday, and Sunday night in the winter with too many summertime adventures to name.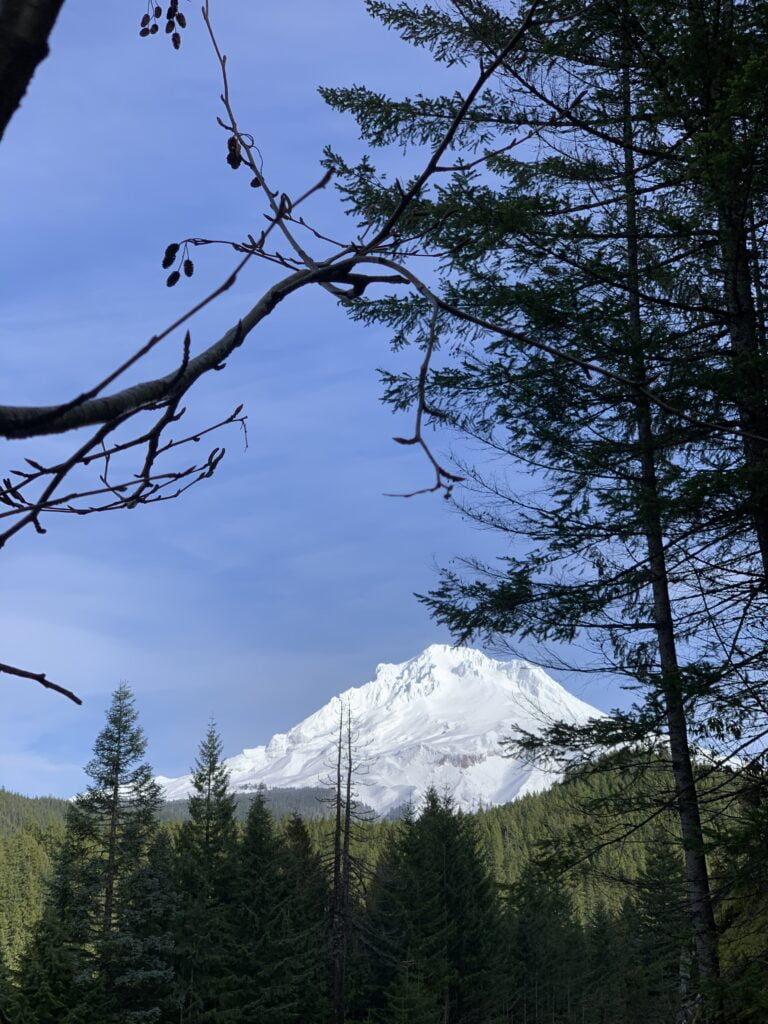 Government Camp
At nearly 4,000 feet in elevation, Government Camp receives about 300 inches of snow every year and offers all you need to spend a day on the mountain. The historic town maintains its otherworldly feel with Bavarian-style architecture and plenty of warm fires inside and out in the winter. It is a recreational hub at all times of year and has plenty of outfitters, food and lodging options. By turning right onto Multorpor Rd., you can take a bridge back over the highway, if you are interested in accessing the nearly century old ski areas at Skibowl East.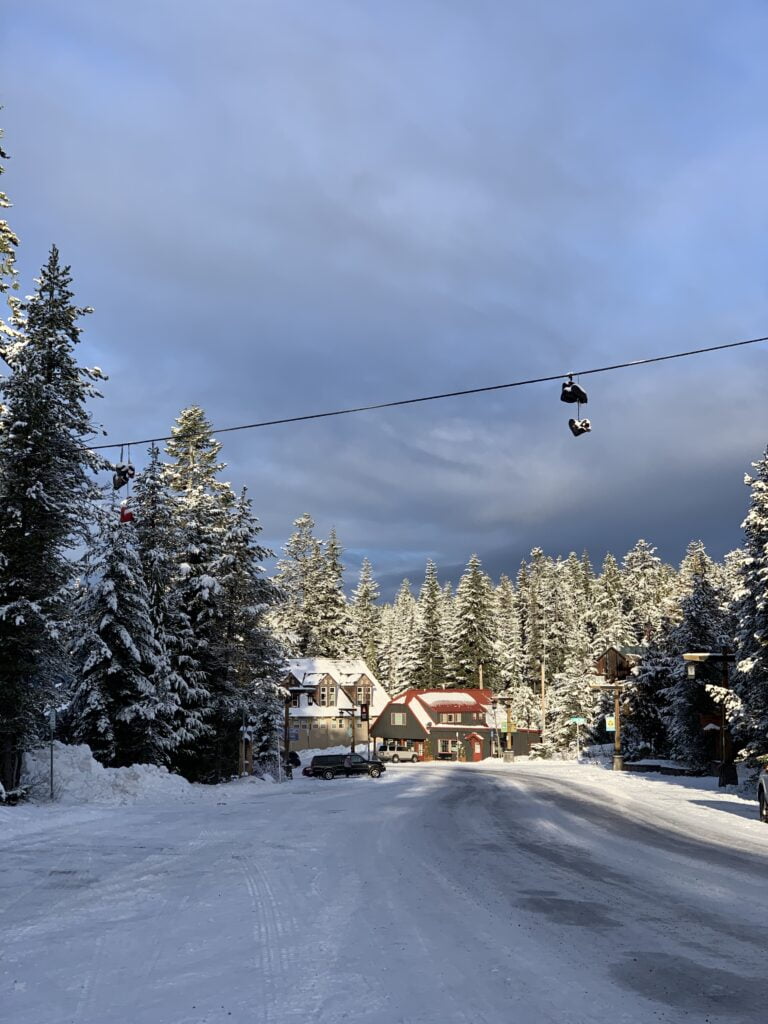 Mount Hood Cultural Center
One place to check out if you have the chance is the Mt Hood Cultural Center and Museum. It is open daily and worth the free visit, of course, donations are always welcome. It has whole rooms dedicated to the history of skiing, the area and how it transformed over time, and the geography and animals of Mt Hood National Forest. Here, you can even find a three dimensional terrain map that gives you an overhead view of the vast landscape we've been covering today.
Summit Ski Area
At the eastern end of Government Camp before merging back onto Highway 26 sits a public rest stop and Summit Ski Area. Summit is one of the oldest continuous ski areas in the country dating back to 1927. It was recently purchased by the operators at Timberline Lodge who is upgrading Summit over the coming years, while continuing to offer family and beginner level skiing at reasonable prices.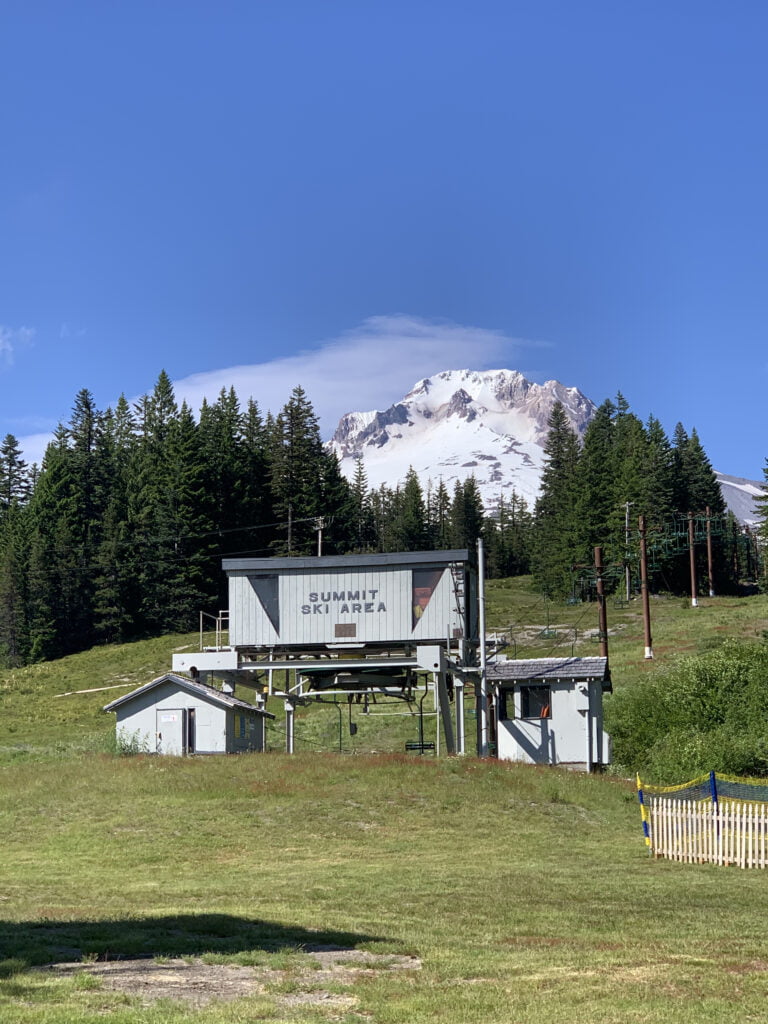 Next up: Timberline Road
Here we are, ready to take that last 2,000 foot climb up to where the trees don't grow… Timberline Highway is to the left, just follow the big signs.
I will pick it up here next time. Happy adventuring and take us along with you next time by just downloading the app!